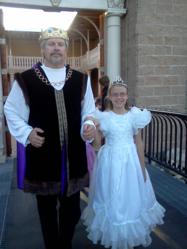 I know now that the Princess Festival will be a yearly outing for us for as long as she is willing to let me treat her as my special Princess in our new yearly tradition.
Salt Lake City, Utah (PRWEB) April 01, 2013
Seeing thousands of moms during the two-week course of the Princess Festival with their sons and daughters, soaking in the atmosphere and fun is not an uncommon sight to see. But, every now and then one will see a dad with his daughter. Perry Hunter recently wrote in to Princess Festival describing the dilemma of divorced dads and daughters, and how the Princess Festival gave him an opportunity to expand his relationship with his daughter.
"I'm a divorced dad with limited contact with my daughter. (I'm in Utah and she lives in Arizona.)
When I have her around I am always on the lookout for something to do with her to make our time together meaningful and memorable. Like many non-custodial fathers however, I have been accustomed to putting her in front of the TV or computer, or even game console or dragging her to "things" that I like to do.
I have discovered that the Princess Festival is a 'dream-come-true' father/daughter event for the divorced or single dad. When I also heard of the Kings Ball, I promised my daughter that we could attend that too.
After two full days at the Princess Festival, I had arranged for her to have her hair done for the ball and when she came into the house she found me waiting, dressed like a King and exclaimed, "You did it, you really dressed like a king for me." This warmed my heart like nothing I have ever experienced. She was beaming all night long. It sent a message of love to her that was personal and wonderful. When she returned to Arizona, she anxiously shared her joy with her classmates at school and how her dad had accompanied her to the Princes Festival and the ball.
I know now that the Princess Festival will be a yearly outing for us for as long as she is willing to let me treat her as my special Princess in our new yearly tradition."
The Princess Festival encourages fathers who are looking for a chance to grow closer to their daughters in an unforgettable, "dream-come-true," way to visit http://princessfestival.com.
About Princess Festival
The Princess Festival which runs from June 18-29 at Thanksgiving Point event center in Lehi Utah (30 miles south of the Salt Lake City Airport) is a participatory event for families. With scripted adventures and plays and its cast of 60 actors and 100 volunteers, it teaches young guests how to "find the magic within" and to be "More than a Princess" (i.e. caring about others and giving service) while they are playing in the adventures with the Princess Festival role models.
CEO Ron Hatfield stated that in 2012 the event drew destination visitors from all 50 states and 3 countries. He said that the organizers expect a 50% increase in attendance for 2013. Princess Festival is the largest Princess Specific Adventure event in America.
This is a 'family event' with a 'princess theme'. It has been designed to appeal to 3-10 year old children and their families. The young guests should come dressed in princess period costumes and be prepared to participate in the 10 different Princess Adventure Quests. Using their "magic within" and adventure kits they will help the Princess Festival Princesses overcome obstacles and challenges to ultimately make the world a better place.
Tickets are sold for four hour long Morning and Afternoon sessions starting at $40 for one adult/one child and an all day pass for $75. The shows and Adventures run from 9 a.m. to 6 p.m., Tues through Saturdays, June 18-29.
The Princesses of Everley Masquerade Ball will be held for our guests on the evening of June 29th also at Thanksgiving Point event center at 7 p.m.. Tickets for the ball are $100 for one adult/ one child. Formal, wonderful food, entertainment aimed at young princesses, and simple and easy dancing instruction for the adult guests and their daughters. This event has limited capacity and sells out every year.