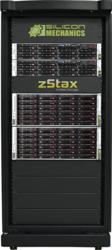 Says Steve Scherer, "With features like a hybrid storage pool architecture and optional high-speed network interfaces, the zStax StorCore 104 meets and exceeds the performance requirements of today's business, all without proprietary hardware."
(PRWEB) April 02, 2013
Silicon Mechanics, Inc. announces that it will be showcasing its zStax StorCore 104 enterprise-class, software-defined storage solution at Bio-IT World Conference & Expo, April 9-11, 2013 at the World Trade Center, in Boston, Massachusetts, Booth #339. Silicon Mechanics invites Bio-IT attendees to "Take a ride on zStax StorCore 104" and see how it delivers high-performance, scalable, cloud- and virtualization-optimized storage management at a fraction of the cost of legacy vendors. With a growing presence in medical research and higher education, Silicon Mechanics will be highlighting features that make the zStax StorCore ideal for electronic medical record storage.
On display will be zStax StorCore 104, an enterprise-class, software-defined storage solution built on ZFS and based on industry standard x86 hardware, which provides open, unified storage management. Industry experts Steve and Tommy Scherer will join zStax product manager Tony Vetter and a team of Silicon Mechanics engineers and specialists to demonstrate zStax and discuss how it can solve medical records and research storage challenges. Drop by the booth to meet the product manager and find out the demonstration schedule.
Says Steve Scherer, "With features like a hybrid storage pool architecture and optional high-speed network interfaces, the zStax StorCore 104 meets and exceeds the performance requirements of today's business, all without proprietary hardware."
Based on NexentaStor, the zStax StorCore 104 provides NAS and SAN capabilities, including support for CIFS, NFS, iSCSI, InfiniBand, and Fibre Channel storage access. Running on industry-standard hardware, the zStax StorCore 104 provides open, unified storage management, eliminating vendor lock-in. As a Seagate Cloud Builder Alliance partner, Silicon Mechanics leverages technology and expertise from Seagate, which offers a great variety of enterprise-grade hard-disk, solid-state, and hybrid storage technologies, enabling them to customize infrastructures based on unique capacity and performance needs.
Join the Silicon Mechanics team to see how zStax can be configured as a highly available storage cluster, with two controller nodes running a defined set of services and monitoring each other for failures as an active/active pair. The demo will also show how both nodes can be actively managing shared storage, all easily configurable through the single pane of glass GUI.
About Silicon Mechanics
Silicon Mechanics, Inc. is an industry-leading provider of rackmount server, storage, and high-performance computing solutions. Deploying the latest innovations in hardware and software technology, we work in collaboration with our customers to design and build the most efficient, cost-effective technology solution for their needs. Our guiding principle, "Expert included," is our promise that reflects our passion for complete customer satisfaction, from server and component selection to superior installation and ongoing technical support.
Silicon Mechanics has been recognized as one of the fastest growing companies in the Greater Seattle Technology Corridor.