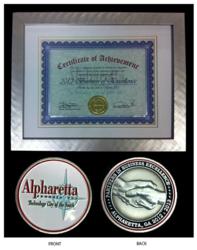 The companies that earn this recognition are greatly accomplished in leadership, teamwork, integrity, and ingenuity. The City of Alpharetta is eager to partner with these businesses and we're delighted to highlight and honor them. - Mayor David Belle Isle
Alpharetta, GA (PRWEB) April 16, 2013
ZCorum, a leading provider of managed broadband services and diagnostics, announced that the City of Alpharetta, Georgia has named ZCorum as one of the city's Businesses of Excellence at it first annual Business of Excellence Recognition Breakfast held on March 26 at The Metropolitan Club in Alpharetta. Sponsored and produced by the City of Alpharetta and the Mayor of Alpharetta, with special guest Georgia Senator Brandon Breach and The Atlanta Business Chronicle. The event honored a select group of Alpharetta businesses that received industry awards in 2012. More than 140 people representing 88 businesses were in attendance.
At the Alpharetta event, ZCorum received the 2012 Business Excellence Certificate of Achievement recognizing dedication to excellence and hard work in 2012. In addition, a specially minted "Challenge Coin" was awarded to each business. During his key note address, Ed Baker, Publisher of Atlanta Business Chronicle, explained that the coin was awarded as a way of challenging each Alpharetta business to continue to strive for "business excellence." He added that the challenge combined "business achievement as well as business distinction."
In response to the recognition and the challenge, Julie Compann, CEO of ZCorum remarked, "We're thrilled with the recognition from the City of Alpharetta. At ZCorum, we are rightfully proud of all we have accomplished as a team, what we are doing well and what we can do even better. This award recognizes something that's already a part of our existing mission, to be a world-class communications company. Even so, we know excellence is an on-going journey. "
In closing remarks, Mayor Belle Isle challenged everyone to continue to strive for Excellence and be present at next year's event. "The companies that earn this recognition are greatly accomplished in leadership, teamwork, integrity, and ingenuity," said Mayor Belle Isle. "The City of Alpharetta is eager to partner with these businesses and we're delighted to highlight and honor them."
About ZCorum
ZCorum is a premier provider of broadband Internet and communication solutions to telcos, cable companies, utilities, and municipalities, assisting in all facets of broadband implementation, integration, engineering and consulting, network monitoring and diagnostics. ZCorum also offers wholesale, private-labeled Internet services, including data and VoIP provisioning, email, Web hosting, and 24x7 support for end-users, enabling service providers to compete effectively in their local rural and suburban markets. ZCorum is headquartered in Alpharetta, GA. For more information, please visit http://www.ZCorum.com.