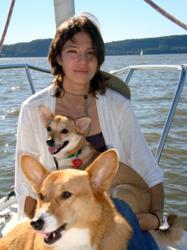 The monthly seminar series has been a positive experience and a great way for us to educate pet owners about their dogs
King, NC (PRWEB) April 01, 2013
Pet Sitters International (PSI), the world's largest educational association for professional pet sitters, has awarded its 2012 Platinum PAW awards, sponsored by the makers of Comfort Zone® products. The Platinum PAW Award was created in 2009 to recognize professional pet sitters for promoting quality pet care through community events.
Rachel Bowers, owner of Brooklyn Bark in Brooklyn, N.Y., was awarded the individual Platinum PAW Award. In June of 2012 she partnered with FIDO, the largest dog owner advocacy group in New York City, to offer a monthly seminar series for dog owners. The Advanced Dog Ownership seminar series included a range of topics from health and nutrition advice from local veterinarians to tips on how to best photograph a dog, presented by a Westminster Dog Show portrait photographer.
Bowers said her goal in offering the seminars was to improve the quality of the dog-owning experience in New York City. Through the seminars, she was also able to promote her pet-sitting business and increase membership in FIDO, an organization that lobbied for off-leash hours in public parks.
"It is so nice to be acknowledged through this wonderful award," Bowers said. "The monthly seminar series has been a positive experience and a great way for us to educate pet owners about their dogs."
Chesapeake Pet Sitters, a dedicated group that volunteers at a variety of local pet-related events in the Baltimore and Harford County areas of Maryland, received the 2012 Platinum PAW award for pet-sitter networks. The network participated in the 2012 Maryland Pet Expo, Responsible Dog Ownership Day and BARCtoberfest. Their charitable efforts also included donating baskets of pet supplies for the Fallston Animal Rescue's silent auction.
"We feel strongly about helping a great non-profit organization such as the Fallston Animal Rescue while promoting ourselves as true professionals who love animals and care about their well-being," said Patty McGreevy, network leader for the Chesapeake Pet Sitters.
PSI member Holly Cook was also recognized with an honorable mention for the Platinum PAW individual award for her work in the Hurricane Sandy relief efforts. Cook resides in Marysville, Mich., where she operates Special Pet Care Services LLC.
Cook organized a donation drive to aid the Humane Society of Atlantic County in Atlantic City, N.J., which sustained significant damage during Hurricane Sandy. She enlisted the help of her pet-sitting clients and several local businesses, as well as students from the local elementary and high schools. In addition to collecting monetary, food and supply donations, a group of fifth grade students made 51 crate pillows to send to the shelter for the pets.
"The pet-care industry is one of the fastest growing in the nation and it is important for pet sitters to establish a level of professionalism that will set them apart from the crowd," said PSI President Patti Moran. "It is obvious from the submissions we received for this award that our members are working hard to establish professional pet-sitting businesses and better their pet-owning communities through outreach and education."
The Platinum PAW winners will be honored with engraved awards and cash prizes at PSI's annual Quest for Excellence Convention. Winners will also receive prize packs from the makers of Comfort Zone® products, the award sponsor.
To learn more about pet sitting or find a local PSI pet sitter, search the Official Pet Sitter Locator™ at petsit.com/locate.
About Pet Sitters International
Pet Sitters International (PSI), a membership organization for professional pet sitters, was founded in 1994 by Patti Moran. Her book, "Pet Sitting for Profit," is considered the leading written authority on pet sitting. PSI is the world's largest educational association for professional pet sitters, representing more than 7,000 independent professional in-home pet-care businesses in the United States, Canada and abroad. PSI provides members with access to affordable bonding and liability insurance as well as educational resources that include a comprehensive Certification Program, Pet Sitter's WORLD magazine, The Scoop e-news and PSI's annual Quest convention. For more information, visit http://www.petsit.com, home of the Official Pet Sitter Locator™ or sign up to receive The Scoop on Pet Care. Visit the PSIStoreOnline, the largest specialty retailer of products for pet sitters and pet-sitting business owners.
The maker of Comfort Zone® products is the proud sponsor of PSI's Platinum PAW Award.
Dogs and cats react differently to being away from their owner, but both may feel a certain amount of stress when left alone. Pet behavior problems, such as urine marking in cats and excessive barking or chewing in dogs, are frequently caused by fear or stress. Developed and recommended by veterinarians, Comfort Zone® products are clinically proven to help control destructive behavior in cats and dogs.
Like all animals, cats and dogs secrete pheromones. Research has shown that certain pheromones can help an animal cope with these fears or stress-related issues. Comfort Zone® products have been proven to help control stress-related behavior problems naturally by mimicking the pheromones that make him feel more secure in his environment. Find out how Comfort Zone® with D.A.P.® for dogs and Comfort Zone® with Feliway® for cats can help pet behavior problems.
Comfort Zone is a registered trademark of Farnam Companies, Inc. D.A.P. and Feliway are registered trademarks of Ceva Santé Animale.