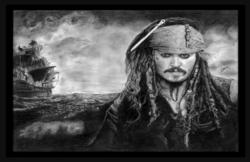 "Satisfaction. Finding the purpose of my life and striving to achieve, is the greatest joy that I endure." Surya Padmanaban - Pencil Artist, Chennai, India
Chennai, India (PRWEB) April 03, 2013
Surya Padmanaban sat with Profile Tree and spoke about how a hobby can turn into a medium for awareness, joy and passion in every aspect of life and make art an inspiration for all.
In Chennai, India, a creative artist is using their passion for art as an inspiration for others as well as an income source.
When asked about the advantage of working for one's self, Padmanaban said "Satisfaction. Finding the purpose of my life and striving to achieve is the greatest joy that I endure." As for challenges the answer was "Managing time. Being software professional, continuing this art journey with office work has often been tedious."
According to the interview, Padmanaban has won the "Contests for Cause" 2012– a national level art contest. Padmanaban customers are anyone who appreciates art - and the one piece of advice Surya offers for anyone starting a business is Steve Jobs' words "Don't Settle".
A challenge, according to ProfileTree Co-Founder, Ciaran Connolly is "balancing a small business or part time work with a full time job where enough money is earned to make the extra work worthwhile. Creating a skills profile online can help with this - ensuring as many people as possible will be exposed to the business."
If you have been offering a skill or service -and would like to share some advice with others - or share where you have had success and things that did not go so well - just email the team at ProfileTree today. Send your details to hello(at)profiletree(dot)com and you will be contacted shortly. ProfileTree is an online free advertising website which shares profiles along with tips and advice for its users.
Profile Tree's main goal is to help small business owners reach new customers every day with the most innovative online marketing tips and techniques.
About ProfileTree: ProfileTree is a free listing service where self employed and small business owner can create an online marketing profile. From Pencil or Portrait Artist to Self Employed Service Providers - anyone can create a skills profile on ProfileTree for free.