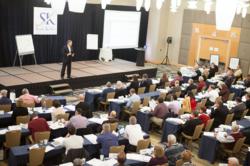 "I was blown away. It was better than any industry meeting in the last 20 years"
Dave Holaday
Pittsburgh, PA (PRWEB) April 01, 2013
"The only way for mid-life financial advisors, estate planners and money managers to enjoy true freedom and finally get paid what they are worth, without sacrificing their personal lives or their integrity, is to use proven advisor marketing and prospecting strategies that work in the New Economy," says Scott Keffer, an internationally-recognized advisor coach and trainer, author, and keynote speaker.
Keffer will share those effective, ethical prospecting and marketing strategies at the upcoming "2013 Scott Keffer Double Your Affluent Client® Boot Camp" which is the only one-stop, all-in-one advisor training event for successful and yet-to-be-successful advisors who want to have a more efficient, profitable practice.
"I created this Boot Camp because I got tired of other industry trainings that teach advisors to build their businesses around financial products and planning solutions, with the result that advisors are painted into the 'Commoditization Corner,' where they are viewed like every other advisor in town," said Keffer "and the only way for prospects to evaluate you is on price."
Keffer challenges advisors to remember the reason they got into the business, "Imagine waking up tomorrow and feeling complete financial, business and personal freedom… having more time than ever to spend away from the office, 'free' to do what you love—even if that's nothing at all—with whomever you want. And all the while, you're certain that your business is still thriving and your bank account is growing in your absence. An office that's more productive when you're gone."
Financial advisors, estate planners and money managers have traveled from across the United States, including Hawaii and Puerto Rico, Canada and Australia to attend the comprehensive three-day training and benefited from the proven tools, frameworks, and real world strategies that are shared.
Dave Holaday, CFP from Carmel, Indiana, was surprised at the amount and depth of content shared at the Boot Camp.
"I was blown away. It was better than any industry meeting in the last 20 years," remarked Holaday. "It might have been the best meeting I ever attended in terms of practical, relevant and applicable material I could use immediately to enhance our marketing."
The event is specifically designed to provide attendees with real world information about growing their advisor business in the "New Economy." The training provides advisors with tools, frameworks, blueprints, and tactics to grow their business with less effort, including how to use systems to attract more and better prospects; how to convert more prospects into clients; how to deliver client experiences; how to operate more productively and profitably; and more.
The Boot Camp was created in 2010 by Scott Keffer to be the training that he could never find and is designed to be convenient and comprehensive, like six seminars in one.
Simon "Stuffy" Singer, CFP, a veteran estate and financial planner in Encino, California, remarked that the boot camp was like no other advisor marketing training in the industry.
"In all the years I've been in this business, there has never been a system and training as complete as Scott's Boot Camp on the process of marketing for an elite advisor," he said.
"The typical advisor training in our industry teaches advisors to grow their clients with yesterday's prospecting and sales techniques," Keffer points out, "which actually turn great prospects off. As a result, today advisors are working longer hours for the same, or worse yet, even less income. They are frustrated and they don't know how to change. I share very specific, tested-in-the-streets and proven to work tactics that create a business that runs better when the advisor isn't there. The mark of a true business is that it operates when the advisor is out of the office."
Session No. 1 covers The 7X Advisor Model and Mindset – The Roadmap to Elite Advisor: More Money, More Time and More Energy. Session No. 2 shows advisors how to: Automatically Attract Great Prospects – How to Distinctively Position Yourself To Stand Out, Rise Above And Attract Streams Of Great Prospects.
"Imagine a steady, predictable stream of pre-qualified, interested, ideal prospects who already understand how you are unique and want to meet with you," said Keffer. "You'll leave with not one way… you'll have over a dozen proven methods… to attract great prospects."
In Session No. 3, advisors discover how to: Close Great Prospects – The Secrets, Including What To Say, To Get Hired By Every Great Prospect.
"Now that you have multiple streams of prospects, you'll discover how to get hired every time," Keffer said before adding, "This will be the most important information you could ever learn for getting hired by the affluent, not just at the boot camp, but anywhere."
Session No. 4 is entitled: Charge More and Keep More Clients; Session No. 5: Producing BIG Results – How to Multiply Your Team's Results (And Your Own) And Their Fun, and Session No. 6 is: Your Dream Business – The Secrets To Build A Lifestyle Friendly, Fun Business.
Darren Hardy, New York Times bestselling author and Publisher of SUCCESS Magazine, recommends Scott Keffer and his content. "I recommend Scott. He is a class act. He delivers great content that will help in big ways to grow your business and attract bigger and better clients."
As to why anyone else should register for the Double Your Affluent Clients Boot Camp, Sharon Dorbritz, Director Of Operations, said, "Scott learned these principles the hard way and built an elite practice. Now, he put all of his success secrets into one three-day boot camp. Every attendee leaves with a 150-page Reference Manual containing everything covered during the 3-day event."
For more information, call 412-854-7860 or please visit: http://www.doubleyouraffluentclients.com