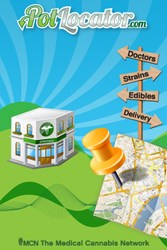 " With this most recent addition, we hope it will create a ripple effect and eventually spread the PotLocator name to all functioning canna-businesses on the West Coast." - John Nicolazzo, C.O.O. of PotLocator
(PRWEB) April 11, 2013
Nationally known as one of the more efficient and user-friendly marijuana dispensary, collective, smoke shop, hydroponics shop and marijuana attorney locators, PotLocator.com has today announced the adjoining of a brand new medical marijuana collective garden delivery service in the state of Washington to their roster of prominent canna-businesses. While competitors such as WeedMaps, THC Finder and DispensaryFinder.com compete and try to maintain business strategies to that of PotLocator, there does not seem to be any company that can catch pace with them. Advertising efforts by PotLocator are at an all time high and the efforts by competitors to slow competition does not seem to be affecting the well-known subsidiary of The Medical Cannabis Network.
The recent addition of the Green Leaf Collective to the PotLocator roster is a vital component to the spread of compassion throughout the state of Washington. In November of 1998, nearly fifty-nine percent of Washington voters approved ballot initiative 692, which allowed patients with terminal illnesses and individuals who suffer from chronic and debilitating diseases to use and possess marijuana once they have received appropriate written-documentation from a physician. Washington state law currently protects physicians and primary caregivers of patients against any criminal form of prosecution. By tackling uncharted territory in the Pacific Northwest Region, PotLocator continues to take the West Coast by storm with its user-friendly interface and extremely individualized advertising services.
Green Leaf Collective is a medical marijuana collective garden and delivery service that provides Initiative 692 medical marijuana patients with a compassionate, discreet and safe-access point to medicine. This collective garden is located in Kenmore, Washington and services patients from Monday-Sunday from nine in the morning until midnight. The only exception of these business hours would be for Thursdays, when deliveries are only available until seven o'clock in the evening. Green Leaf Collective features prominent indica strains of Grand Daddy Purple, Hawaiian Fire, Magoo and Dutch treat, delicious psycho-active sativa strains such as Hawaiian Gold and Silver Diesel, and other various forms of THC-based concentrates and tinctures. Although this location pays homage to Kenmore and provides delivery services to patients in the Kenmore area, the services of this collective garden are not limited to that specific area. Please note that Green Leaf Collective extends its timely-fashioned and completely confidential delivery services to the surrounding towns of Moorlands, Wayne, Bothell, Lake Forest Park, Inglewood, Sheridan Beach, Brier and Lake Park.
As PotLocator takes the Pacific Northwest by storm, their concentration of providing patients in all legal states with a completely legitimate and safe-access point to medicine has not strayed from its targeted path. The team at PotLocator works around the clock to provide patients with the most high-standing dispensaries, collectives, compassionate gardens and wellness centers located in their areas, and they also work around the clock to provide canna-related businesses with their best opportunity to geographically advertise. PotLocator C.O.O. John Nicolazzo said in a statement, "The Pacific Northwest has been a black hole for advertising for quite some time in the marijuana industry; however with the recent addition of this collective garden to our solidified roster of cannabis-related businesses, we have fulfilled our goal of tackling the West Coast. With this most recent addition, we hope it will create a ripple effect and eventually spread the PotLocator name to all functioning canna-businesses on the West Coast."