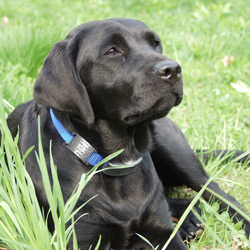 Wilton, CT (PRWEB) April 02, 2013
It's National Pet Identification Week! Spring has sprung and milder weather is approaching the Northeastern United States. It's the perfect time of year for pet owners to make sure they've taken every precaution to help their dog or cat enjoy the outdoors without getting lost.
The first step to ensuring that a pet won't go missing is to make sure that a proper pet containment system is in place to keep a dog or cat safe in a yard. There are multiple methods of pet containment available. One solution is Invisible Fence® Brand pet containment and training, available in the Northeastern United States at http://www.CanineCompany.com. An Invisible Fence® Brand pet containment system can help ensure that pets remains safely in their yards. Keeping pets in their yards can be half the battle in making sure that they don't get lost.
Identification tags are another important step in preventing the loss of a pet. In the event that a pet manages to get loose from a leash during a walk, hike or other activity, an ID tag will provide the owner's contact information to anyone who finds him/her. While any ID tag is better than none, not all dog tags are created equal. Boomerang Curved Dog Tags (http://bit.ly/Xm9pnf) are made of Non-Magnetic Stainless Steel. They're stronger and thicker than traditional tags. Plus, they lie flat on the dog's collar so they won't snag on obstacles that can cause them to fall off or injure a dog during play time.
To further ensure that pet owners are reunited with their pets should they become lost, they should consider having their four-legged family member microchipped. Microchipping a pet offers a permanent identification method. Microchips cannot be easily misread, and the permanent identification number is tamper proof. A microchip is a very tiny transponder that is encoded with a unique identification number. Before insertion, the sterile microchip is scanned in the package to confirm that the identification code of the transponder matches that shown on the label of the bar code on the package.
The microchipping procedure is quick, safe, and generally painless, even in young puppies and kittens. Many vets and shelters offer this service at a reasonable price. Pet owners in the Northeastern United States can locate a veterinarian or shelter in their area that may offer a microchipping service by entering their ZIP code here: http://bit.ly/XB3EkR . Many humane societies and animal shelters carry scanners and can use the information in the microchip to help reunite pets with their owners.
Canine Company is a family of pet-loving professionals dedicated to facilitating a rewarding, lifelong relationship between pets and their owners by offering products and services to keep pets happy, healthy and safe while providing their owners with peace of mind. To learn more about Canine Company, visit http://www.CanineCompany.com or call 800-818-DOGS.