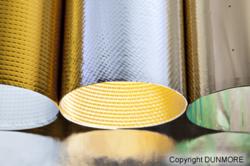 Bristol, PA (PRWEB) April 04, 2013
DUNMORE Corporation will exhibit the materials protecting current space missions such as the International Space Station and MSL's Curiosity as well as upcoming commercial missions with SpaceX and Orbital Sciences at The 29th National Space Symposium held from April 8-11 in Colorado Springs, Colorado.
DUNMORE will be co-exhibiting with partner Bron Aerotech, Inc. (Denver), a leading provider of high-performance tapes, films and fabrics to the aerospace and defense industries. Spokespeople from both companies will be available to discuss detailed technical aspects of DUNMORE's DUN-SHIELD™ ESD (electrostatic dissipative film) products and multi-layer insulation (MLI) materials, as well as materials which have traveled throughout our solar system.
WHO: DUNMORE Corporation and Bron Aerotech, Inc.
WHAT: Exhibiting and discussing the role of high-performance films and tapes in space exploration programs.
WHEN: April 8-11, 2013
WHERE:
The 29th National Space Symposium
The Broadmoor Hotel
Colorado Springs, Colorado
Booth #1301
About DUNMORE
DUNMORE Corporation is a global supplier of engineered coated and laminated films, foils and fabrics. DUNMORE offers turn-key and contract film conversion services including coating, metallizing and laminating.. DUNMORE produces coated film, metallized film and laminated film substrates for the photovoltaic, graphic arts, packaging, aerospace, insulation, surfacing and fashion industries. DUNMORE is privately held, ISO 9001:2008 and OSHA VPP Star certified. For complete information on DUNMORE's products, services and industries served, please visit DUNMORE's website http://www.dunmore.com/.