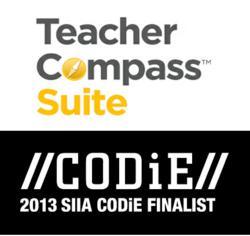 New York, NY (PRWEB) April 01, 2013
Pearson Teacher Compass Suite, a complete, customizable, online observation and coaching system for teachers and principals, is a finalist in the prestigious 2013 Software & Information Industry Association (SIIA) CODiE Awards. Pearson Teacher Compass Suite is recognized in the Best Professional Learning Solution for Education category.
Established in 1986, the CODiE Awards celebrate outstanding achievement across the software, digital information and education technology industries. This year, nominated ed-tech products underwent an intensive review by educator judges from around the world.
Comprised of Teacher Compass PD, Teacher Compass Observe and Principal Compass, Pearson Teacher Compass Suite helps school leaders and teachers work together to implement an equitable educator evaluation and improvement system. Teacher Compass PD is a web-based, on-demand professional development platform that engages teachers in ongoing training, reflection, and collaboration. Combined with Teacher Compass Observe — Pearson's teacher observation and evaluation platform —Teacher Compass PD creates individualized professional development plans for every teacher based on observation data. These professional growth plans are then connected to suggested professional development opportunities, including an easily-accessible online library of relevant training content and videos.
Developed in collaboration with ASCD and the Marzano Research Laboratory, Principal Compass is an online, comprehensive leadership program and the only integrated and scalable online professional development tool aligned with Dr. Robert Marzano's framework for principal growth and development. This leadership competency building system, includes self-paced online modules, on-site coaching and team professional development, access to more than 3,000 classroom and practitioner videos, self-assessment data that is benchmarked against competencies for effective school leadership, progress monitoring, and recommendations for additional resources.
Pearson topped the 2013 CODiE Awards for education with 14 programs earning finalist honors. From classroom management and teacher professional development to virtual and mobile personalized learning solutions, Pearson's CODiE finalists are a testament to its commitment to developing innovative education technology solutions that improve student achievement.
In addition to Pearson Teacher Compass Suite, Pearson's products moving on to the next round of competition in this year's CODiE Awards include digits, EQUELLA, iLit, Lab Investigator Tools, MyEconLab with Knewton Adaptive Learning, MyFoundationsLab, MyMathLab with Knewton Adaptive Learning, OpenClass, Pearson iBook2 Textbooks, PowerSchool, Prep for the GED Test: MyFoundationsLab Edition, Propero and Schoolnet.
Pearson Teacher Compass Suite and all of Pearson's finalists will now be voted on by the entire SIIA membership to determine the winners in each category. The 2013 CODiE Award winners will be announced at the 2013 Ed Tech Industry Summit in San Francisco on May 6.
For more information about Pearson Teacher Compass Suite visit: http://www.pearsonpd.com/teachercompass.
About Pearson
Pearson, the world's leading learning company, has global reach and market-leading businesses in education, business information and consumer publishing (NYSE: PSO).
Contact:
kate.miller(at)pearson(dot)com – 1.800.745.8489