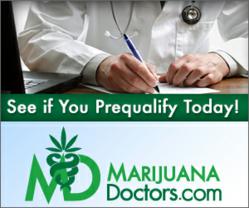 (PRWEB) April 03, 2013
The medical cannabis industry's first online search and booking platform, MarijuanaDoctors.com, has today announced the addition of one of the more premier and professional medical marijuana certification clinics in the state of Maine. With the addition of this location to the solidified roster of reputable and board-certified physicians, MarijuanaDoctors is proving that their dedication to supplying patients with doctors is through the roof and is going to stay that way. As MarijuanaDoctor's announces the welcoming of Maine MMJ Physician Services located in Damariscotta, Maine to their clientele lineup, they are proud to acknowledge this clinic for it's exceptional services in compassionate medicine and are honored to affiliate them with the MarijuanaDoctors name.
Maine MMJ Physician Services is a medical marijuana certification center that is located in the beautiful city of Damariscotta, Maine. Specializing in services in pertinence to recommending medical marijuana as an alternative treatment option to a chronic or debilitating condition, this clinic is well known for their immense amount of compassion and professionalism when it comes to satisfying a patient's needs. Maine MMJ Physician Services boasts a Maine medical health board-certified physician who has been a medical health expert for the last twenty years and is at a patient's dispel in order to evaluate their current condition, discuss the pros and cons when using medical marijuana as an alternative medicine, and recommend the use of medical marijuana in order to treat that condition. Once our licensed medical marijuana doctor has properly evaluated a patient, they are then eligible to receive a written recommendation to use cannabis as medicine to treat their condition and will receive a medical marijuana certification. Shortly after, Maine MMJ Physician Services will help patients who have passed qualification standards and have received a written recommendation with all processes involved with filing and submitting documentation to receive a Maine medical marijuana card. Every member of the Maine MMJ team is absolutely dedicated to providing patients with immense support and the finest services in healthcare. Going above and beyond the call of duty, Maine MMJ Physician Services is truly a prestigious facility.
Located in one of the more conservative states in terms of how medical marijuana is viewed, Maine MMJ Physician Services does not allow this to hinder their ability to spread compassionate, professional and legitimate services in the medical marijuana field to the many residents of Maine who are in need of an alternative medicine. Not only are the compassionate services of this clinic spread to the surrounding towns and cities of Brunswick, Rockland, Newcastle, Sheepscot and Bass, but they are also offered to patients at a lower cost than any other medical marijuana certification clinic in the state. Services are not limited to the aforementioned towns either, as this clinic offers its services to every Maine resident.
As a proud host to such an exceptional and well-rounded medical marijuana clinic such as Maine MMJ Physician Services, MarijuanaDoctors could not be happier with this most recent addition. With a main doctor's office now on the roster in Damariscotta, MarijuanaDoctors hopes to service all patients within the state of Maine who are suffering from a chronic or debilitating condition that hinders their life quality. Patients should have the right to sit down and receive a consultation by a compassionate and intelligent doctor who understands the benefits to using cannabis as medicine. Qualities of dedication and professionalism are truly represented in this most recent addition to the MarijuanaDoctors family, two qualities that are a must for any industry that is shooting for the stars in terms of success.