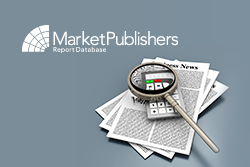 London, UK (PRWEB) April 01, 2013
In 2011, China, India, Morocco and the USA formed the top three barite producing countries. China accounted for above 47% of the world output (around 3 million tonnes). India holds the second place with its 16.7% - approximately 1.2 million tonnes. Morocco and the USA have market shares of nearly 7.7% of the total figure.
CMS INDUSTRIES, Shanghai Titanos Industry Co., Ltd., Shijiazhuang Oushun Minerals Products Co., Ltd., SMIMTAF, Desku Group Inc. and V&P Corporation are amid the entrenched participants in the global barite industry.
New research report "Barite Market Review" elaborated by Merchant Research & Consulting Ltd has been recently published by Market Publishers Ltd.
Report Details:
Title: Barite Market Review
Published: March, 2013
Pages: 80
Price: US$ 1,090.00
http://marketpublishers.com/report/industry/raw_materials_fillers/barite_market_review.html
The report is an essential source of the cutting-edge detailed information on the global barite market. The study presents a clear picture of the current market situation, describes the historic evolution of the industry, contains an overview of the world barite reserves, and scrutinizes global and regional forces having impact on the market shape. The research provides a comprehensive analysis of the global barite market; includes data on the consumption, production and pricing issues. It also offers country market analysis with country/regional production/demand figures, export and import statistics, estimation of the competitive pressure and data on the key players. The report comprises monitoring of the most recent business activities. Moreover, the future markey forecast through 2017 is at hand in the research.
The country markets covered in the report include: the USA, Mexico, Germany, Turkey, China, India, Kazakhstan, Iran, Morocco and Australia.
Report Scope:

In-depth guide to the global barite industry: detailed description of the present state and historic background of the market, estimation of the world barite reserves.
Extensive barite market overview including world production and consumption figures as well as examination of the major factors driving the industry change.
Country market analyses containing country supply/demand statistics, export and import dynamics, price fluctuations, data on the top manufacturers.
Barite market forecast for 2013-2017.
More new research reports by the publisher can be found at Merchant Research & Consulting page.