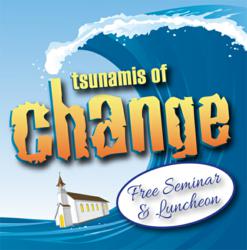 Ogden, UT (PRWEB) April 02, 2013
The "Tsunamis of Change" seminar tour, presented by Building God's Way (BGW), made its debut at Anthem Church in Portland, OR on March 19th and Bayside Church in Citrus Heights, CA on March 21. The enthusiastic crowds included church, Christian school and college leaders. BGW founder Dan Cook and Pastor/ Author Terry Bates presented instructional information on designing, building, growing, funding and sustaining churches that are relevant in today's society. Worship technology specialist Jim Martin was also on board to give live demonstrations of audio, video, and lighting services offered by BGW Technologies. Both events were also streamed live online to remote viewers across the country.
Pastor Bates, author of Positioning Your Church and expert in church growth and fundraising, opened the seminar with an overview of the largest demographic shift in American history. He explained the impact of the retirement of the Baby Boomer generation over the next 12 – 15 years and how the age and income disparity will affect the church. Bates cited statistics from Pew Research indicating that in 2012, Baby Boomers contributed almost 90% of all giving to non-profit groups, but as they continue to leave the workforce at a rate of 10,000 per day, their giving is predicted to decline by nearly 70%.
Bates focused his discussions on creative strategies to double church income in one year and overcome growth challenges, including reaching millennials, engaging men, and creating more cultural diversity. He stressed the idea of creating momentum in ministry and shared unique insights on how to approach fundraising and growth from a "total life stewardship" perspective.
Dan Cook, architect and founder of Building God's Way, followed Bates with affordable design solutions for churches that can help them reach younger families, be relevant to future generations and create financial sustainability. He shared statistics on the millennial generation (those born after 1980) and how to reach this unique group through social engagement and effective uses of technology and communication. He emphasized the use of "Third Places" such as coffee houses, indoor playgrounds, and man-caves in church design.
Cook also shared innovative ideas on how to leverage church facilities and church owned land to generate income. Through creative leasing, private equity projects and using building space throughout the week for preschools, fitness centers, classes, and community events, churches can produce new revenue streams, increase awareness, and create financially sustainable buildings.
Morning presentations were followed by a luncheon and a cooking demonstration on the Rational Self Cooking Center™, the most innovative and cost-saving cooking solution available for churches and schools. The afternoon sessions included breakouts and Q&A time as well as live demonstrations of the latest innovations in worship technology, including lighting, audio, video and broadcast solutions. The seminar tour will visit 11 cities across the nation over the next two months, with the next stop scheduled for this Thursday, April 4 in Olathe, KS and the final event in Garden Grove, CA on May 23rd. For more information on the seminar tour, including dates, locations, and speakers, visit http://www.bgwservices.com/seminars.
About Building God's Way - With a portfolio of nearly 600 churches, Christian schools and colleges nationwide, Building God's Way ("BGW") has become a recognized leader in ministry design and construction. BGW has also developed an unparalleled network of kingdom building services that extend beyond architecture and building and includes growth coaching, vision casting, funding, worship technology and more. The mission of Building God's Way is to build God's Kingdom by translating the God-given ministry vision of Christian organizations through high-quality, cost-effective buildings and by demonstrating the love of Christ on the job site through the BGW Ministry of Construction program.