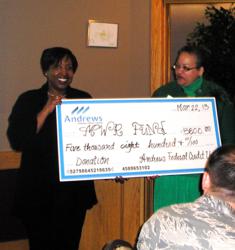 Suitland, Maryland (PRWEB) April 02, 2013
Andrews Federal Credit Union was the proud sponsor of the Joint Base McGuire-Dix-Lakehurst Annual Community Breakfast held on Friday, March 22, 2013. Executive management and staff members of Andrews Federal Credit Union were in attendance. The breakfast, instituted to discover the needs of troops on base, has evolved over the years to include First Sergeants, Commanders, Chiefs and civilian base leaders.
Highlights of the event centered on the discussion of the Andrews Federal Sequestration Bridge Loan and financial education. The loan was developed to provide furloughed Andrews Federal members with financial assistance. Additionally, Andrews Federal is planning a number of events in support of Financial Literacy Month in April.
"Lending our support to the troops at Joint Base McGuire-Dix-Lakehurst for the past 22 years has been an honor and a pleasure. We are committed to helping them achieve all of their financial goals", said Maree Duncker, Andrews Federal Joint Base McGuire-Dix-Lakehurst Branch Manager.
Andrews Federal presented checks to the MWR Fund and AFSA Chapter 211 to support Joint Base McGuire-Dix-Lakehurst as one of its largest community partners.
About Andrews Federal Credit Union
Andrews Federal Credit Union was founded in 1948 to serve the needs of military and civilian personnel by providing a vast array of financial products and services. With over $900 million in assets, Andrews Federal has grown to serve more than 100,000 members in the District of Columbia, Joint Base Andrews (MD), Joint Base McGuire-Dix-Lakehurst (NJ), and military installations in central Germany, Belgium, and the Netherlands. In addition, the Credit Union serves as a financial partner with many select employee groups in Maryland, the District of Columbia, and New Jersey.
To learn more about Andrews Federal Credit Union and its community involvement, please visit http://www.andrewsfcu.org.