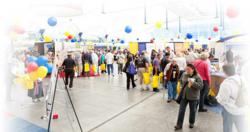 San Diego, CA (PRWEB) April 02, 2013
Over the past year, you may have heard about the healthy changes Paula Deen has been making to manage her type 2 diabetes, as well as the work she's doing on Diabetes in a New Light. Now we're inviting you to share the positve steps you or a loved one are taking to manage type 2 diabetes, as well as commit to one small change to help better manage your health. Click here to enter the Seeing Diabetes in a New Light contest, running until April 14, 2013, for a chance to win an unforgettable and life changing experience with Paula Deen and TCOYD!
Prize includes:
Trip to Savannah, Georiga to attend the Taking Control of Your Diabetes Conference & Health Fair
Guided walking tour of Savannah
A cozy lunch with Paula and her son Bobby
Consultation with a diabetes expert who will provide you with tips and answer questions you may have about the disease.
Novo Nordisk will make a donation of $5.00 for every qualified entry recieved, up to $50,000, to Taking Control of Your Diabetes. Don't miss this wonderful opportunity to share your positve insights into diabetes management with others!
To enter, click here NOW!