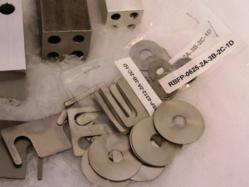 "Need one shim, that's ok with us," said Straley.
Waukesha, WI (PRWEB) April 30, 2013
In February 2013, Rentapen Inc., of Waukesha, WI, a tooling components manufacturer and CAD Drafting services company found it beats the competition's price when it comes to steel shims.
Rentapen conducted some pricing research to compare its metal shim prices to its competitors. Rentapen Inc., the Weld Fixture Specialists, sells hundreds of thousands of precision steel shims each year. Their shims are used in work holding fixtures and weld fixtures and with cutting and forming dies. Metal adjustment shims are used to adjust the location of how the fixture holds the product so that it is welded together within the dimensions set for the product to work well.
Rentapen Inc. offers many different types of Shims: steel shims, stainless steel shims, shim packs, NAAMS shim shapes, Bridge shims, adjustment shims, die-sharpening shims, custom sizes and shapes of shims, Reid Tool Supply shim shapes, and Douglas shim shapes. Rentapen Inc. also makes die sharpening shims of any shape and size. Rentapen's standard shims come as thin as 1/8mm, which is equivalent to .005". But, they can cut as thin as .001 of an inch.
Rentapen's precision metal shims are known as RAPid Shims™ because Rentapen's team can quote, cut, and ship shims faster than most of the competition. Rentapen Inc. has also learned that they are significantly lower in cost then most of the competition.
"We aim to help manufacturers save time and costs. We did this price comparison to see if we were on track with our mission. We are very pleased to see our prices beat the competition," said Susan Straley, President of Rentapen.
View the entire shim price comparison that was done using the price of Rentapen's RAPid Shims™ versus Misumi and Rentapen's RAPid Shims™ pack price versus Douglas Stamping pack price. Click Here to view the link.
A pack of thin metal shim is placed between two components in the fixture. The first component is fixed in place and the second component is attached to the first component with the pack of shims in between. Removing one shim or adding one shim slightly adjusts the location of the second component. This is important to manufacturers who want to have their product's parts assemble easily after being welded.
Rentapen's shims and shim packs are cut with their 150 watt Kern Laser that cuts up to 0.078″ steel and can run at night without an operator present. This is an important factor that reduces costs and allows Rentapen to win orders large and small for shims. Manufacturers are able to order any shape they need in any quantity they need. This has saved many manufacturers and tooling companies' money and time.
"It is amazing that we not only offer our customers a cost savings, but we don't require large quantities to get a good price on our precision steel shims," said Straley.
Rentapen's shims are cut with a laser; Rentapen can offer custom shapes and lower quantities unlike companies that use stamping dies to cut shims. At Rentapen, custom shims are made to order. There is no minimum order.
Some manufacturers use hundreds of the same size and shape of shims. They buy the large quantities from a stamping house, and they keep stock in inventory. Maintaining inventory can be costly. Custom ordered laser cut metal shims reduce inventory costs because manufacturers and machine tooling companies buy only what they need, when they need it.
"Need one shim, that's ok with us," said Straley. "We are proud to be the Shim King; we even created a couple videos about it for fun."
Rentapen Inc., is the weld fixture specialist, and is home of RAPid Tooling Components™. Rentapen Inc. has been providing machine tool design services to manufactures since 1976. A Certified Woman Owned Business and home of RAPid Tooling Components™. For more information contact Rentapen Inc. at 262-542-8891