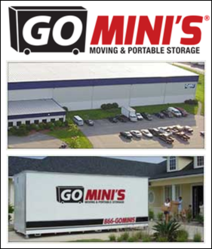 According to a company spokesperson, "Whether you need to move across town, or across the state, you'll find that Go Mini's will exceed your expectations."
Jacksonville, FL (PRWEB) April 02, 2013
Go Mini's, an internationally recognized portable moving and storage solutions company, is excited to announce that it's looking for franchise partners. The innovative and fast-growing company is looking to continue a long tradition of great service in brand-new locations.
Anyone interested in a great franchise opportunity need only consider Go Mini's track record. From humble beginnings in 2002, Go Mini's has already expanded into over 200 locations, including an international presence and throughout North America. The mobile storage industry is expected to see revenues in excess of $40 billion annually, with the industry taking market share from conventional full-service movers and truck rental companies. Much of that growth is coming from Go Mini's, which offers the most popular product in the industry.
Customers have a lot to love about Go Mini's. The company's patented mobile storage product is matched only by an innovative and efficient transport system. Go Mini's also offers services for renovations, moving and emergencies. The process is simple: customers call Go Mini's, have the Mini moving containers delivered, load them at their convenience, and then have Go Mini's pick the containers up and move them. According to a company spokesperson, "Whether you need to move across town, or across the state, you'll find that Go Mini's will exceed your expectations."
About Go Mini's
In just slightly over a decade, Go Mini's has grown to be one of the biggest portable moving and storage companies in North America. Its patented portable moving and storage solutions have been widely appreciated by everyone -- from families, to businesses, to government agencies that need to move or store valuables. With a turn-key start up franchise system, Go Mini's provides the support to help franchise partners thrive. Prospective franchise owners don't need to look any further than Go Mini's for a perfect opportunity. For more detail please visit, http://www.gominis.com/.