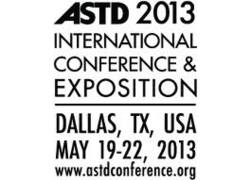 Blended learning is all about enhancing the learner experience by offering training materials in an instructor-led environment as well as available online.
Dallas, TX (PRWEB) April 16, 2013
Omnipress, producers and distributors of training materials, is excited to announce they will be attending the 2013 ASTD International Conference & Exposition in Dallas, TX, May 19-22 (Booth #841). ASTD 2013 is the premier event for workplace learning and development professionals, with more than 9,000 attendees from over 80 countries.
Omnipress will be spreading the word about their Blended Learning Solutions that help class attendees come prepared to learn. Blended Learning is a powerful way for trainers to provide educational materials to their students or course attendees online and via print, prior to their courses. This provides students with more value and allows them to be more prepared for their face-to-face learning sessions.
"Blended learning is all about offering content in multiple formats, such as print and online, in order to improve learner retention and enhance learner experience," Dan Loomis, Product Director at Omnipress explains. "Providing multiple formats leverages learning styles and allows for course participants to learn effectively before, during and after an ILT event."
Starting May 13th, Omnipress will be blogging leading up to the event, recording their adventure from Madison, WI down to Dallas, TX. Their goal is to highlight their adventures and inform followers about blended learning and the adventures they come across will be similar to how organizations make decisions on Instructor-Led Training materials. Make sure to follow Omnipress' blog, Facebook page or Twitter account.
Additionally, Omnipress will be giving other attendees of the show the chance to win $250 by becoming a "Training Deputy" at their booth; Booth #841.
###
About Omnipress
Omnipress helps organizations produce and distribute Continuing Education Materials
Products Include:
--Blended Learning Solutions
--Print On-Demand
--Inventory Services
--Order Fulfillment
Need help with an annual conference?
-Online Abstract Management
-Mobile Event Apps
--Conference Printing
--CD/USB Production
--eBooks
Our customers rely on us for our 35+ years of dedicated customer service, vast knowledge of associations and undisputed dependability.