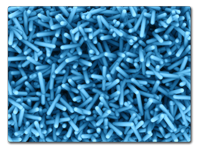 Bozeman, MT (PRWEB) April 09, 2013
CDC estimates that approximately one in six people (48 million) become sick each year in the US as a result of food-borne illnesses; of these, 128,000 are hospitalized, and 3,000 die. Some of the most common pathogens contributing to these food-related diseases are Norovirus, Salmonella (nontyphoid), Clostridium perfringes, Campylobater spp., Staphylococcus aureus, Shigella spp., and some strains of Esherichia coli.
Pathogens such as Shigella, Campylobacter and some E.coli strains increase our vulnerability to food-borne illness epidemics because they have very low infectious doses, on the order of twenty to a few hundred microorganisms. However, by taking proactive approachs, infections can be greatly diminished by ensuring antimicrobial food-handling products are validated and proven effective against them. Testing these types of pathogens also impose challenges in a clinical laboratory setting because they can potentially be ingested as a result of becoming aerosolized during routine methods performed in a handwash evaluation, such as certain inoculations and glove juice samplings.
These product efficacy studies support the Food Safety Modernization Act (FMSA), which was signed into law Jan 04, 2011, with the intent of changing the focus of FDA food regulations to primarily one of prevention, rather than one of crisis response.
BioScience Laboratory's trained personnel, consultation with physicians specializing in infectious diseases, the implementation of safety shields in high risk stations, and rigorous decontamination procedures allow us to safely and effectively perform standard handwashing test methods with these pathogens to simulate food handling procedures. We can evaluate antimicrobial products for their ability to reduce the number of microbes that are transferred from contaminated hands to food, to towels, to utensils, and to other hands.
Over the past 21 years, BioScience Laboratories has partnered with a variety of firms to develop, modify and validate technologies in order to best meet their sanitation needs. Not only can we assist food manufacturing facilities in developing their sanitation plans and monitoring systems in order to comply with the FDA's newly proposed restrictions, we can also help disinfectant manufacturers to better serve the food manufacturing industry by developing new applications for existing technologies.