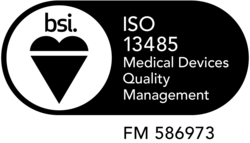 The ISO 13485 certification validates our continued commitment to quality. - Bud Sundeen, Director of Quality Control at Multi-Tech Systems
Minneapolis, MN (PRWEB) April 02, 2013
Multi-Tech Systems, a leading M2M (machine-to-machine) solutions provider, is pleased to announce it now holds the quality management system ISO 13485: 2003 certification. Required by the medical device world, ISO (International Organization for Standardization) 13485 incorporates a risk management approach to product development and product realization.
"The ISO 13485 certification validates our continued commitment to quality," said Bud Sundeen, Director of Quality Control at Multi-Tech Systems. "The steps we took to implement this quality management system are well worth the value that it brings to our customers."
Multi-Tech's external and embedded modems, routers and gateways are used in many medical M2M communications applications to transmit patient data from homes or emergency vehicles. Although some of Multi-Tech's medical device customers require this certification, companies of all types can benefit. By improving internal control and processes, the ISO 13485 system drives quality, performance and speed to market, manages risk, enhances organizational competency and protects a company's brand. In addition, product traceability is greatly improved in that it is completed to the component level.
To learn more about Multi-Tech's solutions for medical OEMs, read Integrating M2M in Medical Devices. To find out more about this Multi-Tech certification, please visit http://www.multitech.com/certs.go or contact our sales team at sales(at)multitech(dot)com or 888-288-5470.
About Multi-Tech Systems
Multi-Tech Systems has been delivering industry-leading M2M (machine-to-machine) communications solutions since 1970. With more than 22 million devices deployed worldwide, Multi-Tech focuses on helping customers achieve the shortest path to M2M connectivity – from concept to implementation and total lifecycle management. Whether a project is simple or very complex, Multi-Tech has the resources and expertise to work with any development team to customize a hardware or software solution that maximizes speed to market and return on investment. With carrier-approved external and embedded modems and gateways, Multi-Tech makes it easy and fast to connect your devices to networks anywhere in the world. We work with clients in almost any market to enable cellular, analog, Wi-Fi®, Bluetooth® and GPS capabilities into a solution to achieve superior business results. If we don't have it, we will develop it. Multi-Tech established its reputation for Innovative Designs and Innovative Solutions by obtaining 80+ patents and certifications from more than 30 carriers and over 80 countries. Multi-Tech has made M2M Simplified for thousands of customers around the globe. http://www.multitech.com. Twitter: http://www.twitter.com/MultiTechSys