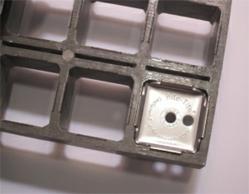 Improved decking attachment for all elevated decks with thin gauge porcelain tile or natural stone.
Cheyenne, WY (PRWEB) April 03, 2013
Since 2011, DexSystems® had been exploring design improvements to it's GratedeX® structural decking panel. Final designs were completed in early 2012 and new product was introduced in the summer of 2012.
Since 2005, DexSystems® has been shaking up exterior flooring installation with a new technology for the placement of thin gauged stone or tile on exterior decks and rooftop terraces without the problems of mud-set or thin-set construction practices. The previous version of the GratedeX® flooring panel had been successfully installed by contractors and DIY customers since 2008 with complete satisfaction. Improvements to the GratedeX® outdoor flooring panel and it's Bite-Tite® joist framing fastener build on this success by making installation more user friendly and increasing attachment strength.
A key feature of DexSystems® flooring system is the hidden flush fastener attachment to the open-celled flooring panel that ensures a flat, clean surface for glued-down placement of a porcelain tile or thin gauged stone. The new GratedeX® Outdoor Floor System™ panel with it's new recessed notches now receives the Bite-Tite® fastener with a simple push-to-lock, flush with the panel surface. Set the screw through the fastener into the joist and it's complete–fewer tools and faster assembly.
In addition, the Bite-Tite® stainless steel fastener has also been improved. The re-design for the push-to-lock function along with other panel engagement improvements has also increased the fasteners hold-down strength by more than 15% making the joist attachment even more secure.
With these improvements to the GratedeX® Outdoor Floor System™ panel and the Bite-Tite® fastener, contractors and DIY customers can create an even more enduring and successful outdoor floor experience.