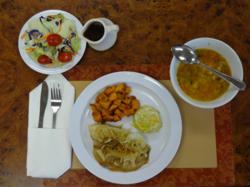 We're going to change public opinion about frozen food one healthy meal at a time.
Miami, Florida (PRWEB) April 02, 2013
From the bland-but-salty TV dinner, to skimpy portion diet cuisine, to so-called healthy choices with ingredient lists you can't pronounce, frozen foods have a earned a dubious reputation. Eat Well Foods is launching a new "Break the Frozen Foods Stigma" campaign to show how their healthy, made-from-scratch meals are worlds apart from standard frozen supermarket fare.
"A lot of people think of frozen foods as a necessary evil," says Eat Well Foods owner/chef Mark Lew. "They're too busy to cook so they pick up salty, greasy fast foods, or they choose some chemical-laden frozen entrée to pop into their microwave ovens. They know they should be eating better, but they don't know what to do."
In an ongoing series that is always upbeat and often humorous, Eat Well Foods will spotlight the ways their brand differs from everything else available. "We're going to change public opinion about frozen food one healthy meal at a time," Mark says. "Our customers are young professionals, athletes, people who want to lose weight, and anyone looking for taste and convenience with the satisfaction of knowing they are eating healthy."
Eat Well Foods offers the alternative of healthy meals made from fresh ingredients. "None of our ingredients come from cans," Mark says. "There are no preservatives, no high-fructose corn syrup, and now no wheat. All our marinades and sauces are made fresh, so we control the sodium content and taste from start to finish. It's flavor as nature intended."
Eat Well meals are available two ways: microwaveable for convenience and boil-in-bag for those who prefer not using a microwave.
Eat Well Foods provides delivery to homes and businesses in South Florida from South Miami-Dade to Boca Raton. Customer outside the delivery area can order special insulated containers of up to 14 regular meals or 10 large meals. "Our insulated shipping is surprisingly affordable," Mark says.
A complete media kit can be obtained by contacting Mark (Mario) Lew at 786-991-6602 or Hank Eder at 828-689-5787.