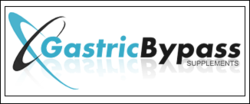 North Dartmouth, MA (PRWEB) April 03, 2013
Gastric bypass patients are required to take bariatric vitamins on a consistent basis. Now, GastricBypassSupplements.com allows patients to keep up with their vitamin and dietary needs, without skipping a single day. The new automatic refill program from GastricBypassSupplements.com regularly delivers bariatric vitamins right to the client's home, without the client having to remember to reorder monthly.
It is simple to register for the auto refill program. Clients simply contact GastricBypassSupplements.com via phone, and provide their shipping and billing information, the type of bariatric vitamins they require, and the desired date to receive their order. GastricBypassSupplements.com automatically fills the order per the clients' instructions and ships to the provided address. Clients do not have to remember to reorder their bariatric vitamins, or submit a new payment, each month.
Bariatric vitamins on GastricBypassSupplements.com are priced well below retail pricing. As a major bariatric health website, GastricBypassSupplements.com has an established relationship with many bariatric vitamin suppliers, ensuring low prices and passing the savings on to the consumer. GastricBypassSupplements.com also has a much lower overhead than most physical health stores and pharmacies, so they are able to offer bariatric vitamins at lower prices. For additional savings, GastricBypassSupplements.com offers free shipping on all orders over $75.
The website features a wide selection of the top bariatric vitamin brands, including Bariatric Advantage, Celebrate, Syntrax, and many others. The vitamins come in easy-to-take chewable tablets, liquids, and powders. There is a variety of bariatric vitamins from which to choose, all at affordable prices. No matter the type of bariatric vitamins doctors recommend to their weight- loss patients, they will be able to find them on GastricBypassSupplements.com.
To sign up for the auto refill program and shop for bariatric vitamins, visit http://www.gastricbypasssupplements.com/, or call (800) 854-3891.
GastricBypassSupplements.com
GastricBypassSupplements.com is the complete source for all bariatric supplements and needs. The website carries a large selection of chewable bariatric vitamins and calcium citrate with vitamin D chewable tablets from Celebrate Vitamins, Bariatric Advantage and Twinlab. They also carry bariatric protein powder in a wide variety of flavors in Nectar, Isopure Zero Carb and About Time, as well as a large selection of bariatric snacks.