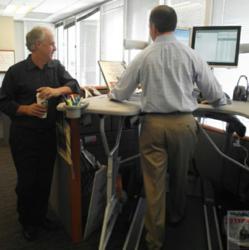 Employees no longer have to be forced to exercise when they are moving slowly through the day accomplishing their work tasks.
Scottsdale, AZ (PRWEB) April 02, 2013
A new study from Brigham Young University has proven for the first time what scientists have long suspected. While inactivity may lead to obesity, obesity is also a major contributor to inactivity. TrekDesk Treadmill Desk offers a solution designed to break this cycle.
Dr. Larry Tucker, senior author of the study at BYU, was quoted in the online journal Obesity regarding the relationship of inactivity and obesity. "Half of the cycle has been studied almost without limit. This is the first study of its kind, in many ways, looking at obesity leading to decreases in physical activity over time."
The study involved 250 female participants (half of which were obese) monitored for activity with accelerometers rather than self reported levels of activity which are often over reported. "Roughly 35 percent of the population reports that they're regularly active," Tucker said. "When you actually put an accelerometer on adults and follow them for many days, only about 5 to 7 percent are actually regularly active. We used an objective measure so we could determine genuine movement, not just wishful thinking."
The study found an 8% decrease in activity in obese subjects during the 20 months study and no change among normal weight subjects. While the study results were not surprising it did shed light on the need to design intervention strategies to stop the cycle of inactivity/obesity.
In an online video found on the BYU website Dr. Tucker (http://news.byu.edu/archive13-mar-obesity.aspx) expressed optimism regarding intervention strategies and their profound impact on improving health outcomes.
"Psychologists have proven that the best way to change behaviors is to change the environment in a manner conducive to the desired outcome," stated Steve Bordley, CEO of TrekDesk Treadmill Desk. "That is our goal with the TrekDesk. Employees no longer have to be forced to exercise when they are moving slowly through the day accomplishing their work tasks. Change the environment, change the behavior and the desired outcomes are achieved. It is as simple as that."
Designed to fit any existing treadmill, TrekDesk treadmill desk is an affordable, full sized, height adjustable workstation that allows individuals the opportunity to gain the necessary amount of daily exercise to lose weight, maintain health, reduce stress, prevent disease, strengthen muscles, boost mood and productivity, without requiring additional time during the day or extra motivation. Wondering how to improve health while working? TrekDesk treadmill desk offers the solution.
Join the TrekDesk "Movement Revolution" to learn more, spread the gospel regarding movement, or win a free TrekDesk http://www.facebook.com/trekdesk, or follow TrekDesk on twitter http://www.twitter.com/trekdesk. TrekDesk treadmill desk is currently available for sale online at http://www.trekdesk.com.