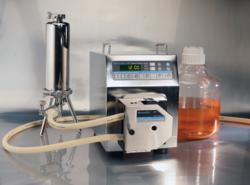 Vernon Hills, IL (PRWEB) April 02, 2013
Cole-Parmer will feature a range of Masterflex® pharmaceutical lab, scale-up, and production pumps at INTERPHEX™ 2013 in New York, April 23-25. Masterflex® pump drives are designed to be noncontaminating and noninvasive, making them the pumps of choice in the pharmaceutical industry. And Masterflex® tubing is available in formulations that meet USP Class VI, EP, FDA, and EU Food standards to maintain the purity of products.
Attendees stopping by Booth #2033 can view Masterflex® BioProcess Pumps, including the Masterflex® L/S® Digital Process Drive. This stainless steel drive is IP66 and NEMA 4X rated for washdown cleaning after use and is ideal for sterile filling. The Masterflex® I/P® Digital Process Drive is effective for sanitary pressure filtration.
Along with Masterflex pumps, Cole-Parmer will showcase key pharmaceutical lab products. The Cole-Parmer® Rotational Viscometer determines the dynamic viscosity of samples in pharmaceuticals, chemicals, biofuels, adhesives, and more. The new Oakton® Temp 9000/9500 Benchtop Temperature Controllers from Cole-Parmer allow users to plug heating devices right into the convenient receptacles for more accurate control.
Booth visitors can also register to win a Kindle™ Fire HD 8.9" Tablet and request the new 2013/14 Cole-Parmer® Sourcebook. For more information, call 800-323-4340 or go to ColeParmer.com/20035.
Cole-Parmer has been a leading global source of laboratory and industrial fluid handling products, instrumentation, equipment, and supplies since 1955. Our product lines, including popular brand names such as Masterflex®, Oakton®, and more, are sold through company-owned customer channel outlets and a strong network of international dealers. We also feature an ISO-17025-accredited metrology lab for instrument calibration and repair. Cole-Parmer responds with excellence to customer needs, and offers application expertise and technical support. For more information, contact Cole-Parmer, 625 East Bunker Court, Vernon Hills, IL 60061. In the US, call 800-323-4340. International customers, call 847-549-7600. Visit us at ColeParmer.com