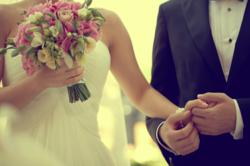 Newport Beach, CA (PRWEB) April 02, 2013
Many famous people maintain low-key wedding plans in an effort to keep out of the public eye, but every once in a while, one decides to go against the grain and plan an elaborate celebration instead. Facebook co-founder and Napster creator, Sean Parker, is the latest celebrity to opt for the latter.
It is reported that Parker and his fiancée, Alexandra Lenas, have been planning a medieval themed wedding slated for June 1st of this year. With save-the-date cards made to look like medieval scrolls, the big day will also include custom-made medieval costumes to be given to each guest (http://hollywoodlife.com/2013/03/31/sean-parker-wedding-medieval-theme-alexandra-lenas/). Experts at Wedding.com have long encouraged uniquely customized wedding celebrations, but they agree it is rare for famous people to take such an unorthodox approach to wedding planning. Given the extravagant details that have so far been released, it is believed Parker and Lenas will pull out all the stops for a true-to-life experience that they and their guests can enjoy.
"We are excited to see what Mr. Parker and Ms. Lenas' wedding will entail," says Brett Reynolds, CEO of Wedding.com. "Mr. Parker is a billionaire and has all the means to create a truly medieval themed wedding. There is no doubt their wedding will be like looking into a celebration of centuries ago."
For more information about Wedding.com, please visit http://www.wedding.com.
About Wedding.com
Wedding.com is an innovative new website that connects engaged couples planning their wedding with wedding vendors looking to grow their business. Wedding.com contacts vendors for couples, giving them the power to compare and negotiate while ultimately saving time and money. With 12,000 couples and 22,000 vendors currently using the website, 105,000 proposals have already been sent since their inception. Vendors range in services from wedding planners, photographers, florists, and DJs to custom invitations, party favors, and much more. For additional information about the company and its services, please visit http://www.wedding.com.