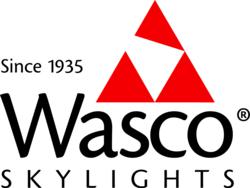 Wells, ME (PRWEB) April 03, 2013
Wasco Skylight Products recently debuted two new unit skylights: EcoSky and EcoSky3. Together, these revolutionary, glare-free unit skylights have received much attention within the industry, as they offer superior thermal performance for cradle to cradle designs, in shapes never before available, with thermal performance far exceeding any competitive offerings. Both EcoSky and EcoSky3 are NFRC tested, rated and certified.
EcoSky was specifically designed for use in warmer climates; its Evonik Cyro's ACRYLITE® SatinSky coating is an innovative acrylic sheet that is impact modified, infrared blocking, light diffusing and 100% haze white. This unit naturally reflects the sun and greatly reduces solar heat gain.
"EcoSky3's R-value exceeds anything else on the market today," boasts Jeff Frank, Wasco's CEO. EcoSky3 was specifically designed for use in any climate, including those where changeable temperatures are common. EcoSky3 offers all the advantages of EcoSky's SatinSky coating plus three times the thermal performance of the leading competitor thanks to its Cabot 10 mm Lumira™ aerogel panel. Lumira aerogel is a major breakthrough in insulating technology in that it provides a tremendous thermal insulator to prevent heat loss, while also being environmentally sound. The gel permanently stops connective, conductive, thermal transfer without an appreciable drop in light transmission. Lumira™ aerogel greatly reduces sound transmission as well.
"We unveiled the EcoSky Series at the most recent Greenbuild International Expo in San Francisco, which is the world's largest expo devoted to green building. We had a terrific response from industry insiders, architects, wholesalers and engineers," said Frank. "Most of our competitors only offer this type of unit skylight in one shape due to their restrictive manufacturing process; EcoSky and EcoSky3 are available in both pyramid and dome shapes. We have already received a number of orders, and expect many more."
For more information about the new Eco Sky and EcoSky3 unit skylights, visit http://www.wascoproducts.com/commercial/configurations/plastic/unit/ecosky3.
About Wasco Skylights
Headquartered in Wells, Maine, Wasco Skylights is a leader in bringing the outside in, providing a full line of commercial and residential skylight solutions for standard or customized installations. With a focus on ease of installation, Wasco is known for its extensive product line, innovative and customized designs with reliable long-life performance and overall value. For more information call 800-388-0293 or visit http://www.wascoproducts.com.
About Evonik Cyro
Evonik Industries is a worldwide manufacturer of polymethyl methacrylate (PMMA) products sold under the ACRYLITE® trademark in the Americas and under the PLEXIGLAS® trademark on the European, Asian, African and Australian continents. For more information, visit http://www.acrylite.net or http://www.acrylite-shop.com.
###