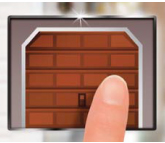 My Smart Garage means I never have to get out of bed at midnight to double check the garage door.
Orem, UT (PRWEB) April 25, 2013
NorthStar Alarm is set to be the first home security company to offer Honeywell's new Smart Garage feature this summer. It allows total garage door control from anywhere, either online or via smart phone using the Total Connect app.
Smart Garage works through home automation technology available with the new Honeywell Lynx 5100 touchscreen panel to provide additional protection to NorthStar Alarm customers.
Through Smart Garage, customers can set schedules on their Honeywell Lynx 5100 panel to ensure their garage stays closed at night. Users can also program the panel to automatically close the garage after a set amount of time.
Customers can also check their garage door status by looking at an icon on their smartphone or on the Internet through Total Connect. If the app shows an open garage, simply tapping the icon closes the garage from anywhere.
"Smart Garage offers garage door control from basically anywhere in the world," said Ryan Forbes, NorthStar Corporate Install Manager. "It gives our customers an added piece of mind that no other home security company has yet to offer."
Total Connect already enables customers to arm and disarm their system and unlock doors remotely. Smart Garage is the latest home automation feature exclusive to Honeywell partners like NorthStar that will allow customers to be more secure and more connected to their homes.
"I believe The Smart Garage to be a game changer in the home security industry because it will ensure that our customers will use some part of their home security system every day," said Forbes. "The more the customer uses their alarm system, the more they are invested in it."
NorthStar Alarm expects the Smart Garage to be a significant selling point for their door-to-door sales teams they will send out nationwide this summer.
"The Smart Garage is another way that Honeywell and NorthStar have set themselves apart from the competition with cutting-edge technology," said Adam Bailey, NorthStar Director of Sales. "We now have an affordable product that many of our competitors do not have. That's a huge win, both for our customers and for our sales teams," said Bailey.