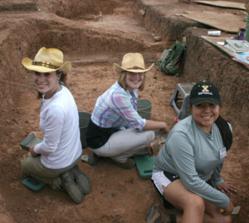 Cortez, CO (PRWEB) April 02, 2013
The Crow Canyon Archaeological Center in Cortez, Colorado, offers an extraordinary opportunity for teens looking for their next summer adventure: the chance to become involved in real archaeological research during one of the Center's three summer camps. And if teens and their parents act quickly, they can apply for a scholarship that will help cover costs associated with camp tuition and room and board.
Students participating in Crow Canyon's Middle School Archaeology Camp, High School Archaeology Camp, and High School Field School excavate alongside archaeologists in the field, analyze artifacts in the lab, visit archaeological sites, and discover the rich cultural history of the ancestral Pueblo Indians of the American Southwest. Last year, 78 students from across the country attended Crow Canyon's teen camps and High School Field School.
Archaeology camp students will work at the Dillard site, Crow Canyon's current excavation site and the focus of the Center's Basketmaker Communities Project. The site is an ancestral Pueblo community center dating from the Basketmaker III period (A.D. 500–750). In accordance with Crow Canyon's human remains policy and current research design, the Center does not seek out human remains as objects of study.
Several scholarships are available, including one for American Indian students. Scholarship application deadlines are approaching (deadlines vary for each program). Application dates and more information on Crow Canyon's teen camps are available on the Center's website. Teens may also contact Bronwyn Strickland for application information at 970-564-4346 (direct) or 800-422-8975, ext. 146, or e-mail her at bstrickland(at)crowcanyon(dot)org.
About Crow Canyon
The Crow Canyon Archaeological Center is a not-for-profit organization dedicated to understanding and teaching the rich history of the ancestral Pueblo Indians who inhabited the canyons and mesas of the Mesa Verde region more than 700 years ago. The Center is located just outside Cortez, Colo., in an area with one of the densest concentrations of well-preserved archaeological sites in the world.