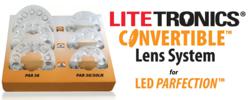 Alsip, IL (PRWEB) April 03, 2013
Litetronics® International, a leading global manufacturer of innovative, energy-efficient long-life lighting products, has introduced the unique Convertible™ Lens System to quickly convert LED Parfection™ PAR38, PAR30LN and PAR30 LED bulbs to a 15° Spot, or a 28° Flood, or a 40° Wide Flood beam angle. Now Retail Store operators can convert their Display lighting, and Museum Curators can convert their Exhibit lighting as needed to meet their changing display requirements over time.
To convert a Lens, simply unscrew the three screws holding the current clear plastic Lens in place on the bulb, install the new Lens using the molded-in Alignment Post guide, then screw-in the three screws to hold the new Lens in place. An illustrated, easy-to-follow Conversion Instructions Sheet is provided.
Convertible Lenses are priced at only $1.99 each, and available by Special Order through Litetronics Customer Service. They enable maximum lighting flexibility over the 50,000 hour rated life (translates to 9-11 years or more) of these high quality LED bulbs.
About Litetronics International, Inc.
Headquartered in Alsip, Illinois, near Chicago, and privately-held for 42 years, Litetronics International is a leading developer and manufacturer of innovative, energy-efficient long-life lighting products. Litetronics developed the first commercial long-life 20,000 hour Incandescent lamp in 1976, the first long-life 5,000 hour Halogen lamp in 1989, the first Spiral-shaped Compact Fluorescent Lamp (CFL) in 1995, the first Cold Cathode CFL in standard bulb shape in 2003, the first CFL with only 1 mg of mercury in 2006, and today offers the only energy-efficient LED bulbs with the patented Thermal Breeze™ cooling system with no moving parts or fans – enabling long 50,000 hour bulb life, extremely high Lumen Maintenance, and extremely low Color Shift over time. For more information, visit http://www.litetronics.com or contact the Litetronics Customer Service team by Phone: 1-800-860-3392, or Email: CustomerService(at)Litetronics(dot)com.
Media Contact
Paul Comisky
Marketing Director
1-800-860-3392
pcomisky(at)litetronics(dot)com