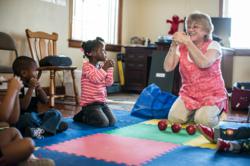 Vienna, VA (PRWEB) April 02, 2013
This April, Wolf Trap Foundation for the Performing Arts and Telos Corporation will partner to implement 63 STEM Classroom Residency Sessions in Loudoun County, with most of these residencies in Head Start classrooms. Continuing through 2014, Telos Corporation is providing valuable corporate support of this program which infuses STEM learning into pre-K and Kindergarten classrooms using arts integrated learning approaches. Telos Corporation considers the implementation of Wolf Trap's STEM initiative in Loudoun County a critical step towards effective long-term Northern Virginia workforce development to help provide teachers with professional development to enhance teaching strategies for STEM, and to equip young children with critical skills they need to succeed in school and in life.
The residency locations are: Woodgrove High School in Purceville, Tuscarora High School in Leesburg, Sterling Elementary in Sterling, Dominion High School in Sterling, Heritage High School in Leesburg, and Liberty Elementary School in South Riding. In addition to residencies, Wolf Trap plans to host Family Involvement Workshops with participating classrooms. Wolf Trap looks forward to bringing residencies to additional classrooms in Loudoun County during the 2013-14 school year.
The Wolf Trap Institute's early learning program began in 1981 and has been the subject of independent research that documents the positive impact of arts-based learning strategies on children's cognitive and social development and school readiness in areas including language and literacy, math and logic.
The Institute's programming features multi-session Classroom Residencies that provide professional development for classroom teachers while helping children learn through active participation in arts-integrated experiences; Professional Development Workshops for administrators, teachers, and specialists; and Family Involvement Workshops for children, parents and caregivers. These programs are designed to tap into children's innate desire for active, multisensory learning, as children literally embody STEM concepts by singing and dancing, and engage their imagination through puppetry, story dramatization, and role play.
To hear more about Wolf Trap's renowned work in delivering critical STEM concepts to early learners through the arts, and how the organization is striving to enhance workforce development across the nation, please listen to this Telos hosted podcast featuring an interview with Akua Kouyate, Wolf Trap's Senior Director of Education.
"I am a firm believer that there is an intrinsic link between the arts and the math and science disciplines," said John Wood, Chairman and CEO of Telos Corporation and Wolf Trap Foundation Board Member. "Not only does the incorporation of art into a good science and math curriculum help build the foundation for creative innovation down the road, but arts can also make the 'boring' disciplines more fun."
The generous support of individuals, members, corporations, foundations, and governments has enabled the Wolf Trap Foundation for the Performing Arts to expand the breadth and depth of its unique arts and education programs that spark interest, engage imagination, inspire creativity, increase self confidence, and drive success in learners of all ages. Each year, Wolf Trap and our partners provide high quality arts learning experiences to over 75,000 children and adults locally, nationally, and internationally. In addition to classroom-based learning, educational offerings include a diverse array of classes in the arts for infants, toddlers, students, and adults; a renowned internship program which was included in Bloomberg BusinessWeek's 2009 "Best Places to Intern;" master classes; and an internationally acclaimed opera residency training program for young artists with the GRAMMY-nominated Wolf Trap Opera Company.
"We are grateful to Telos for their continued support of our STEM efforts in Loudoun County, helping young learners develop crucial skills they need to fully round out their intellectual development," said Arvind Manocha, president and CEO of the Wolf Trap Foundation for the Performing Arts. "John and his team are to be commended for their strong focus on workforce development, and Wolf Trap is proud to serve as their partner in helping to prepare America's next generation of mathematicians and scientists."
About the Telos Corporation
Telos Corporation has provided innovative IT solutions and services to the federal government for more than 30 years, focusing since 1997 on cybersecurity. Telos solutions ensure that the government's most security-conscious organizations comply with demanding federal and DoD information security mandates. Offerings include Xacta® IA Manager and other solutions for cybersecurity and information assurance, secure networks, network management and defense, mission applications and development, secure communications, and identity assurance and access. Solutions are represented to the federal government on Telos' GSA schedule. For more information, visit http://www.telos.com.
About The Wolf Trap Foundation for the Performing Arts
Wolf Trap Foundation for the Performing Arts, a 501(c)(3) nonprofit, founded by Catherine Filene Shouse (1896-1994), produces and presents a full range of performance and education programs in the Greater Washington area, as well as nationally and internationally. Wolf Trap features three performance venues, the outdoor Filene Center and Children's Theatre-in-the-Woods, both located at Wolf Trap National Park for the Performing Arts, and The Barns at Wolf Trap, located down the road from the national park and adjacent to the Center for Education at Wolf Trap. The 7,028-seat Filene Center is operated in partnership with the National Park Service and annually showcases an extensive array of diverse artists, ranging from pop, country, folk, and blues to classical music, dance, and theatre, as well as multimedia presentations, from May through September. The Barns is operated by the Foundation year round, and during the summer months is home to the GRAMMY-nominated Wolf Trap Opera Company, one of America's outstanding resident ensemble programs for young opera singers. Wolf Trap's education programs include the nationally acclaimed Wolf Trap Institute for Early Learning Through the Arts, Children's Theatre-in-the-Woods, a diverse array of arts education classes, grants, and a nationally recognized internship program that was included in Bloomberg BusinessWeek's 2009 List of "Best Places to Intern." As part of its ongoing commitment to protect and preserve the environment, Wolf Trap offers metro access and is a founding member of the Green Music Group. Visit the Wolf Trap website at http://www.wolftrap.org for more information.
Visit the Wolf Trap Web site at http://www.wolftrap.org for more information.
####