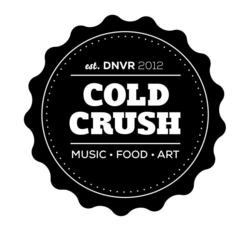 "Our vision is for Cold Crush to be part of the art community, to be a place where artists can hang out, eat great food, and even showcase their own work." -Brian Mathenge, owner
Denver, Colorado (PRWEB) April 03, 2013
Cold Crush, a new restaurant, bar, and lounge with an emphasis on authentic, locally sourced food, music and the arts, is announcing its grand opening with a party on April 19, 2013 from 7:00 P.M – 2:00 A.M. at 2700 Larimer Street in Denver's Five Points neighborhood.
Cold Crush, its name inspired by the legendary late-70s hip hop group Cold Crush Brothers, is the creation of Brian Mathenge, co-owner of the successful Killer Shrimp Restaurant and Bar in Marina Del Rey, California, and three other planned locations. Mathenge, a long-time fan of Denver's art community, has been coming to Denver for years to visit family, and now splits his time between Colorado and southern California. He is opening Cold Crush as an artist's haven, a place where artists, poets, musicians, and those who appreciate their work can meet, mingle, and eat great food.
"Lots of places hang and sell art on the walls, and call themselves an art bar," stated Mathenge. "Our vision is for Cold Crush to be part of the art community, to be a place where artists can hang out, eat great food, and even showcase their own work." The huge mural on the side of Cold Crush's building will be changed on a regular basis by local artists, Mathenge added, reflecting Cold Crush's support for the community.
Mathenge will be supported by his management team consisting of three long-time Denver residents including local musician, DJ and producer, DJ MU$A, model and DJ Cassie Stevens, and general manager and art enthusiast Eric Cunningham. The team plans to feature some of the best local music and artists in the area, with a club-worthy sound system, full-time DJ, and regular guest musicians and DJs. Cold Crush plans to help promote everyone from spoken-word poets to local to national music acts looking for a small, intimate venue.
"Many artists are not able to perform because of the costs involved in larger venues," says MU$A. "We want Cold Crush to be a place where people want to come to eat, have a drink, and hear great music, and even local poets and musicians can share their work," added Stevens.
Cold Crush will not be serving your typical bar fare. "We won't be serving deep-fried bar food," stated Cunningham. "All our food is healthful and homemade, and with the variety of dishes we're serving – including our full juice bar – we're sure to have something to satisfy everyone," he added. Cold Crush will serve fresh sandwiches, panini, soups, salads and entrees from lunch until late, along with regular artist performances and some of the best music in Denver.
Cold Crush Restaurant, Bar and Lounge is located at 2700 Larimer Street in Denver. Hours of operation are daily from 11:00 A.M. to 2:00 A.M.
###