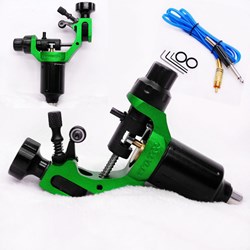 (PRWEB) April 02, 2013
Today, TattoosFactoryOutlet.com, a well-known supplier of tattoo supplies, launched a site-wide promotion for all its products. According to Mr. Zheng, CEO of the company, the promotion will last from today to April 18, 2013, and any order can enjoy a discount, up to 29% off.
The promotion covers all the products on the website of TattoosFactoryOutlet.com, including tattoo kits, tattoo machines, tattoo inks, tattoo grips, tattoo needles, tattoo power supplies, and etc. Customers can find the discounted prices online directly. In addition, any order above $100 can delivered with free shipping worldwide.
"We are very excited to launch this promotion to expand our market share, because we have our own factory for tattoo machines. People can now buy tattoo supplies at factory wholesale prices now," said, a spokesman for TattoosFactoryOutlet.com. "Not only we offer a full range of tattoo supplies, but also other tattoo accessories at affordable prices."
He adds, "Customers safety and health are always the most important things for our company, and we always keep this in mind when developing new products. If you have any question about any tattoo supply on our website, please don't hesitate to let us know."
About TattoosFactoryOutlet.com
Founded in 2008, TattoosFactoryOutlet.com is a well-known tattoo machine manufacturer and wholesaler, offering hundreds of premium quality tattoo supplies. With flexible marketing strategy, trendy styles, and affordable prices, the company has become a leading brand in the tattoo machine industry.
For more details, please visit http://www.tattoosfactoryoutlet.com