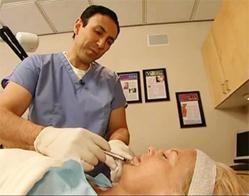 Los Angeles, California (PRWEB) April 01, 2013
According to a March 22, 2013 Fox News article, next year, Johnson & Johnson will seek U.S. approval for a new anti-wrinkle drug. With its high dollar budget and cosmetics credentials, Johnson & Johnson may significantly impact the market currently monopolized by Allergan Inc.'s Botox (Go to goo.gl/quHNx).
"I look forward to the introduction of this new, as yet unnamed, product," says Dr. Simon Ourian, Medical Director of Epione Beverly Hills. "There's no downside to being able to offer our patients another anti-wrinkle option."
Botox is a form of Botulinum toxin, used to temporarily smooth severe lines on the face, and is primarily injected between the eyebrows. The $1.8 billion per year brand is used throughout the world. Escalating its value beyond just the sales of its cosmetics, Botox has been approved for non-cosmetic medical use. Allergan's Botox can be used to treat migraine headaches, an overactive bladder, and excessive sweating.
In the first half of 2014, a marketing application to the U.S. Food and Drug Administration will be the central system for the trials (now-completed) of Johnson & Johnson's new anti-wrinkle product. To perform in the same arena as Allergan's Botox, Johnson & Johnson will have to demonstrate that their new drug (still unnamed) is of equal quality and meets the same safety standards as Allergan's Botox brand. To be a true competitor, Johnson & Johnson's new anti-wrinkle drug would have to produce longer lasting results, and/or be more cost effective.
Since Botox has grown into an iconic brand and is asked for by name, it may take time to build the popularity of a new product bearing Johnson & Johnson's name. Other competitors have failed to set Allergan's Botox cosmetics back in sales. Only Dysport, produced by Valeant Pharmaceutical International Inc. and Xeomin, produced by MerzPharma Group, are currently approved by the FDA as anti-wrinkle drugs.
"As the article mentions, there are already other anti-wrinkle drugs on the market," concludes Dr. Ourian, "though neither of them has yet made a sizable dent in Allergan's near monopoly. To do that J&J's offering will either need to be significantly better or significantly cheaper."
Dr. Ourian has been a pioneer in laser technology and non-invasive aesthetic procedures including Restylane, Juvéderm, Radiesse and Sculptra. These treatments are used for the correction or reversal of a variety of conditions such as acne, acne scars, skin discoloration, wrinkles, stretch marks, varicose veins, cellulite, and others. More information about new anti-wrinkle treatments can be found on Epione's website.