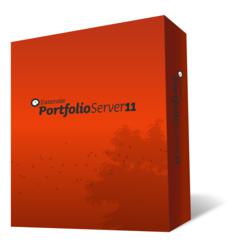 On average, Portfolio Server users report saving two and a half hours per employee per week. That adds up to $3000 in savings per employee annually. In multi-user environments, that makes a major impact on the bottom line.
Portland, OR (PRWEB) April 02, 2013
Extensis announced today the immediate availability of Portfolio Server 11, its latest Digital Asset Management (DAM) solution that enables organizations with large collections of rich media files to have DAM on their terms. Boasting powerful new features such as a brand-able web client and Amazon Electric Compute Cloud™ (EC2) support, Portfolio Server 11 lets users adapt the solution to their specific needs and run-it-anywhere. Additionally, the industry-leading DAM server includes robust iPad and video capabilities, offering instant access to digital media with streaming HD video playback and video conversion for tablets, mobile devices and the web.
With advanced cataloging and search capabilities, Portfolio Server 11 users are primed to save thousands of dollars annually with significant time savings.
According to Davin Kluttz, Director of Product Strategy at Extensis, "On average, Portfolio Server users report saving two and a half hours per employee per week. That adds up to $3000 in savings per employee annually. In multi-user environments, that makes a major impact on the bottom line."
Extensis Makes DAM Work for Customers
Portfolio Server 11 is quick to set-up, easy to use, affordable and involves little IT support or training, making DAM approachable for companies and workgroups of all sizes. Its robust features can scale to meet the needs of large enterprises, including a built-in API that integrates the solution with other business systems, while offering the simplicity and affordability that smaller organizations require.
Kluttz noted: "We believe that digital asset management should be easy to implement and shouldn't require fundamental changes to the way people work. DAM should work for you, not the other way around. With Portfolio Server 11, Extensis has made DAM even easier."
PRODUCT HIGHLIGHTS
Customers Get it Their DAM Way: Portfolio Server 11 allows users to customize the system to fit within any organization or team, including features such as:
o Brand-able Web Client: Allows users to customize the Portfolio Server 11 experience with their logo and overall look and feel.
o Customizable UI: Users can tweak the user interface to fit their organizational, data entry, and search needs.
o Gallery Favorites: Commonly used galleries can be quickly accessed by pinning them as Gallery Favorites.
o Automated User Management: Active Directory integration offers easy administration and access by users.
Run Portfolio Server 11 Anywhere: Portfolio Server 11 can be accessed from or installed wherever needed, with:

Cloud Computing: Server administrators can choose to install Portfolio Server 11 on Amazon EC2, VMWare VSphere, or traditional server hardware.
Drag and Drop Assets: Users can drag-and-drop assets into Mac® OS Mountain Lion and Windows® 8 applications using the updated Desktop Client.
Catalog Anything, Find Everything: No matter the file or format, Portfolio Server helps people quickly find the assets they need.
o Camera Raw Image Support: Portfolio Server supports camera raw images captured from the latest pro camera models.
o More Metadata: Share additional asset information with Adobe Creative Suite and other XMP aware applications with IPTC Extension and PLUS metadata support.
o NetMediaMAX HD: Convert video for the web and mobile devices
NEW FEATURES VIDEO
A video demo of the new features can be viewed here.
WHAT'S NEW WEBCAST
A "What's New" product webcast will take place on Tuesday, April 16, 2013 11:00 am
Pacific Daylight Time. To attend, register here.
PRICING AND AVAILABILITY
Portfolio Server 11 is available immediately and starts at an estimated retail price of $1,999US. Competitive upgrades are available for a variety of products, including Final Cut Pro Server®.
Existing Portfolio Server users with a current annual service agreement (ASA) will receive product upgrades free of charge, and upgrade pricing is also available for existing Portfolio Standalone, Portfolio Server and Portfolio Studio customers.
Portfolio Server is available in English, French, German, and Japanese.
To learn more about Portfolio Server 11, visit http://www.extensis.com/portfolio-server-11
About Extensis
Extensis® is a leading developer of software and services for creative professionals and workgroups. Their solutions streamline workflows, securely manage digital assets and fonts, and control corporate typographic branding. Used by hundreds of Fortune 5000 companies, Extensis' award-winning server, desktop, and web service products include: Portfolio Server® for digital asset management, Universal Type Server® for server-based font management, Suitcase Fusion™ for single-user font management, and the WebINK® web font rental service. Founded in 1993, Extensis is based in Portland, Oregon, and the United Kingdom. For additional information, visit http://www.extensis.com
© Celartem, Inc. d.b.a. Extensis All rights reserved. EXTENSIS, the Extensis logo and Portfolio Server are trademarks or registered trademarks of Extensis in the United States of America, Canada, the European Union and/or other countries. This list of trademarks is not exhaustive. Other trademarks, registered trademarks, product names, company names, brands and service names mentioned herein are property of Extensis or other respective owners.
Contact
Edward Smith
Product Marketing Manager, DAM Solutions
503-274-2020 ext 180
esmith(at)extensis(dot)com