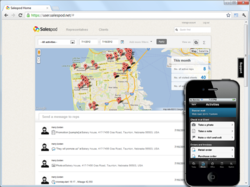 Salespod's Workforce Tracker enables organizations to implement Agile Field Management best practices.
Boston, MA (PRWEB) April 02, 2013
Salespod, Inc., the maker of the agile field sales and retail merchandising automation tool Salespod, has announced the availability of Workforce Tracker in the Apple App Store. Workforce Tracker gives companies the ability to manage mobile workers and their workload more effectively by giving management real-time visibility to the location of its field representatives. The application is an optional add-on to Salespod's iPhone/iPad based mobile cloud solution for managing field representatives and activities. The app monitors the location of the iPhone or iPad from the time the rep officially starts their workday, until they 'clock-out' of the Salespod application at the end of the day; sending the GEO-Tagged data to the Salespod console every time the location changes by 200 meters.
Salespod is changing the way that companies manage their mobile workforce by leveraging mobile technologies to greatly streamline how information moves between the field and the back office. Known as a "task oriented swiss army knife for the mobile workforce", Salespod drives efficiency in the mobile workforce by providing high value functionality on smartphones and tablets. With this latest innovation, Salespod has enabled a higher level of accountability within field organizations, and increased the efficiency with which field reps can be deployed for sales, merchandising, marketing and service activities.
"Workforce Tracker adds an important element to the already powerful features that Salespod delivers. Being able to see exactly where reps are at any point throughout the workday brings a level of accountability and control never before possible when managing remote workers. This functionality gives organizations the insights they need to most effectively deploy and manage their mobile workforces," says co-founder of Salespod, Marko Linke.
Workfrce Tracker capability was introduced as an embedded feature in Salespod on Android based smartphones and tablets earlier this year, and is available free of charge to organizations using Salespod to manage their field teams.
About Salespod:
Salespod specializes in developing mobile software solutions for enhancing sales processes for the FMCG (fast moving consumer goods) industry, the pharmaceutical industry and the cosmetic industry. Since their founding in 2008, the vision has been to offer the most comprehensive and convenient mobile solutions on the market for sales and mobile management. Coined the "swiss army knife for your mobile workforce", the software is used by L'Oreal, Lavazza, Keune Haircosmetics, Julius Meinl, Jaegermeister and many others. Salespod's solution is poised to change the way field sales teams communicate, collaborate, and conduct business. This is a fundamental shift occurring in field sales and merchandising. Gone will be the days of clunky CRM systems. For more information or a free trial, go to http://www.salespod.net. For industry industry news and reports, visit the Salespod blog at http://www.salespod.net/blog/all-news/ or Twitter.com/salespod.