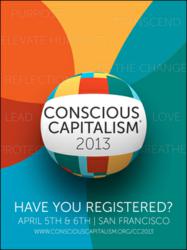 "Conscious Capitalism shifts the narrative of business from the story of me to the story of us," Doug Rauch, CEO, Conscious Capitalism, Inc.
San Francisco, CA (PRWEB) April 02, 2013
Organizers announced today that a free online simulcast will be offered of the Conscious Capitalism 2013 conference dedicated to exploring the powerful business model known as Conscious Capitalism. The webcast on April 5 will feature presentations by CEOs and executives from some of the world's most forward-thinking companies that are practicing Conscious Capitalism, including Whole Foods Market, Patagonia, The Motley Fool and The Container Store.
The webcast on Day One of the two-day conference will introduce the four principles of Conscious Capitalism (higher purpose, a stakeholder focus, conscious leadership, and conscious culture), and illustrate how companies are utilizing them to create value and build sustainable success. The program is designed for a broad and diverse global audience, including executives, business professionals, entrepreneurs, non-profits, academics, students and others who want to understand what Conscious Capitalism is, why it works, and how they can put it to work.
Conscious Capitalism, Inc., the non-profit organization hosting the conference, was created in 2005 to advance the theory and practice of Conscious Capitalism. For the last six years it has hosted an invitation-only CEO Summit to foster a peer learning community of business leaders. Conscious Capitalism 2013 will be the organization's first major public event.
"Visionary business leaders today recognize the critical interdependence between their investors, customers, employees and suppliers, as well as communities and ecosystems," said Doug Rauch, CEO of Conscious Capitalism, Inc. "They realize that a singular focus on profits cannot sustain long term success, and they're building their businesses to create value for all of their stakeholders."
The free Conscious Capitalism 2013 video simulcast will be available at http://www.consciouscapitalism.org on Friday, April 5 beginning at 8:30 AM Pacific with a welcome introduction by John Mackey, co-CEO of Whole Foods Market and co-author of the new book entitled Conscious Capitalism, and his co-author and co-chair of Conscious Capitalism, Inc., Raj Sisodia. The simulcast will conclude at approximately 5:30 PM. Archived video of the entire Day One program will subsequently be available at consciouscapitalism.org.
Tickets to attend the conference in person in San Francisco are still available at http://ccspringconference.eventbrite.com and start at $295 (for Day One only). Day Two of the event will offer dozens of hands-on practical workshops led by facilitators from many of the companies and CEOs featured in Day One (including Kip Tindell, CEO of The Container Store, Casey Sheahan, CEO of Patagonia, Tom Gardner, CEO of The Motley Fool, and John Mackey) and by collaborating organizations including The Drucker Institute, B Lab, NetImpact and the Social Venture Network. Tickets to Day Two are available only to those attending Day One. Special pricing is offered to Non-Profits, Students, Academics, and Solo Entrepreneurs.
The conference schedule and more information are available at http://consciouscapitalism.org/cc2013.
About Conscious Capitalism, Inc.
Founded in 2005, Conscious Capitalism, Inc. is the non-profit organization presenting and producing Conscious Capitalism 2013. For more information visit http://consciouscapitalism.org/.