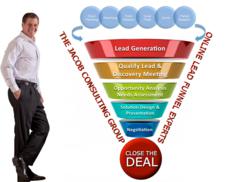 Incremental E-Improvements makes a dramatic difference in your ROI. - Andy Jacob
Cupertino, CA (PRWEB) April 01, 2013
Andy Jacob, CEO of Jacob Consulting Group, has just released his newest White Paper, "The Seven Essentials To Getting Extra Sales From Your Website". Jacob's newest white paper is available on his website free of charge for the first 100 companies who make an online request.
Jacob, the only International Sales Guru who promises to double his client's existing business offers his high-impact Executive Coaching and Business Training to decision makers, CEOs, investors, business owners and senior executives. Countless companies have already accelerated their growth by hiring Jacob, and his clients have called him one of the world's leading experts of the "Online Sales and Marketing Cycle."
Jacob's Newest White Paper, "The Seven Essentials To Getting Extra Sales From Your Website" is one of six white papers he plans on releasing this year. Known to many as one of the world's premier sales and marketing gurus, Andy Jacob co-founded World Wide Financial Services in 1989, Founded Inc. 500 Media Company LeadPile in 2003, and is the Founder of Jacob Media Group, a leading creator, publisher, and distributor of digital entertainment and content, and is the CEO of The Jacob Consulting group.
Jacob offers impactful business consulting to decision makers, and he is very familiar to many Americans who have seen him featured on local and national television, have heard him on syndicated radio, and have read about his sales and marketing expertise in national publications, including the Wall Street Journal.
Jacob's real world experience in building three multi-million dollar companies fostered a philosophy rarely taught at Harvard Business School. Jacob says, "It's a new digital world out here. Traditional online marketing simply does not get it done anymore."
Mr. Jacob has been spotlighted on "Oprah", and has been a guest financial expert on NBC, CBS, ABC, FOX, Bloomberg TV, TNT, and many others. Jacob is the author of many published articles and periodicals including "The Internet Marketing Guide", "The Three Immutable Laws Of Selling By Phone, "The SuperClosers", "My Sales Force Is Better Than Your Sales Force", and "Why Not", which is now available on Amazon.