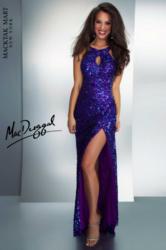 New York, NY (PRWEB) April 01, 2013
Two months left to Prom, and many girls are still in a search for the perfect prom dress. As the leading retailer of designer evening and cocktail dresses, MackTak Mart brings the latest trends and new styles in the fashion industry. This season, prom is all about glamour and haute couture runway dresses, hence, MackTak has expanded their prom dress collection with the new Mac Duggal line for prom 2013.
Awarded as Designer of The Year in the Prom/Pageant category of DIVA 1998 competition, Mac Duggal has earned the top prom dress designer title. Inspired by fabrics and colors, Mac Duggal creates one of a kind gowns and dresses in magnifying shades. Celebrities such as Jennifer Beal, Gwyneth Paltrow, Tina Turner, Bette Midler and Aretha Franklin have been showcasing his dresses on the stage and on the red carpet, and now its prom girl's turn to be the shining star of the night.
At MackTak, customers will be able to find variety of styles and colors, hand sewn with high quality crystals and sequins from sizes 0 to 14. The designer also offers plus size prom dresses under the Cassandra Stone II collection, available at MackTak Mart. Long floor-length dresses, high low dresses, short dresses and dresses with high thigh side slits will satisfy everyone's taste and needs. The diversity of the collection aims to different characters, personalities and cultural backgrounds. Prom girls will be able to shop strapless dresses, open back dresses, one shoulder dresses, spaghetti strap dresses, and sleeveless dresses for their special night.
With each purchase, customers will receive a free pair of matching jewelry or a clutch. If the purchase is over $500, MackTak will send a free pair of evening shoes.
About MackTak Mart New York:
MackTak was created by Mack Tehrani and the support of a close friend Ali Dowlaty. They were both in a music band that was started in college, but later on the band brought to the creation of a new brand called MackTak Collection. The brand specialized in unique and modern designed T-shirts, which are still available online at MackTak Mart. Today the brand carries more than fifty designer dresses for all types of events and occasions. MackTak Mart is a growing and very successful dress retailer that specializes in prom, evening, and cocktail dresses.
Media Contact: 212-302-2468 | marketing(at)macktakmart(dot)com
###