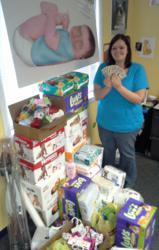 (PRWEB) April 01, 2013
Shindigz employees, or Party Hosts as they're often referred to, are always finding new ways to make life more fun and looking for ways to pay it forward. In March, Shindigz raised over $1900 for Whitley County B.A.B.E. This organization helps hundreds of families in Whitley County. Whitley County B.A.B.E. was established as a coupon incentive program for pregnant women and families to consistently participate in programs and services provided that benefit the health and well-being of infants and young children. This ensures that these children are given the best possible start in life. The coupons can be redeemed for diapers, wipes, cribs, high chairs, sippy cups and other infant and toddler related items.
"It goes beyond providing diapers and other items to families that need it. These families are given so much more. By participating in mom's groups or nutrition classes or even time spent at the library, moms are given the resources and tools they need to bring their baby into this world healthy and happy. Most importantly the people at B.A.B.E. give moms hope," says Christy Phend, eCommerce Partnership Coordinator at Shindigz. She continues, "I'm so happy that Shindigz can help such a great organization. The response we've received in donations exceeded our original goal. Our employees are really passionate about B.A.B.E. and they proved it with the large amount of donations."
The Shindigz Fun Team printed a large cardboard standee of a baby with the owner's face on it. The goal was to dress "Baby Shep" as they hit various goals. Half way through the month, Shindigz decided to change the donation drive into a team competition to ramp up donations through the end of the month. The team that brought in the most baby items would win a pizza party provided by Shindigz.
In past years, Shindigz has held lunch fundraisers and hosted a penny wars competition between departments. This year's fundraiser was the most successful with almost doubling Shindigz's most successful year in 2011.
About Shindigz
Shindigz "makes life more fun" more than 25 million events, through the manufacture and sale of personalized party favors, décor and supplies. The company was formed in 1926 and has since shipped party products from its facilities in South Whitley, Indiana across the United States and around the world to 59 countries. With more than 34,000 products, Shindigz provides customers with complete party solutions. For more information about Shindigz, go to http://www.shindigz.com.