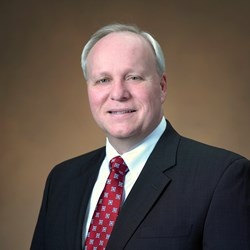 As CFO, I will be striving to maintain the strong balance sheet management has built over the years...
Evansville, IN (PRWEB) April 02, 2013
Following the retirement of 29-year company veteran Richard (Rick) Olson, Atlas World Group is promoting Donald (Don) Breivogel Jr. to the position of chief financial officer. Breivogel joined the company as a senior vice president in January after serving as CFO for a large consumer finance company.
Breivogel brings 25 years of experience to his new role, where he will direct the financial functions for all of the Atlas World Group companies with responsibility for corporate accounting, financial analysis, internal audit, financial reporting and risk management.
"As CFO, I will be striving to maintain the strong balance sheet management has built over the years, focusing on growing the revenue base, improving profitability through effectiveness and efficiency measures and refining the analytics behind decision making," said Breivogel. "With my ultimate goal of building stockholder value within the company, I look forward to developing and maintaining long-term relationships with key constituents."
As the former CFO of a large consumer finance company, where he also served as director of the company, Breivogel brings extensive financial experience to his new position at Atlas. He is a certified public accountant licensed in the state of Indiana and a member of the American Institute of Certified Public Accountants, the Indiana CPA Society and the Institute of Management Accountants. Breivogel continues to remain active with his alma mater, as he is also currently on the advisory board of the College of Business for the University of Southern Indiana and is a charter member of the Accounting Circle, which is an advisory group for the undergraduate accounting program.
"With Don's proven track record as a financial leader, we are delighted to appoint him to this new role that will enable him to make even more significant contributions to our company," said Glen Dunkerson, chairman and CEO of Atlas World Group. "The goals he has set in place align with what Atlas hopes to continue, and we look forward to seeing Don build upon the strong foundation laid by his predecessor."
About Atlas World Group
Atlas World Group is an Evansville, Ind.-based holding company and the parent corporation of Atlas Van Lines. Atlas World Group companies employ nearly 700 people throughout North America – through a network of quality agents and select service partners – to provide a variety of relocation and transportation services for individuals and organizations worldwide. Nearly 500 Atlas interstate moving agents in the United States and Canada specialize in corporate relocation, household moving services and in the specialized transportation of high-value items such as electronics, fine art, store fixtures and furniture. For more information Atlas World Group, visit http://www.atlasworldgroupinc.com. For more information on Atlas Van Lines' moving services, visit http://www.atlasvanlines.com.