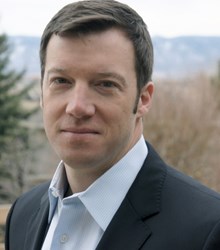 I am excited to help them launch into the arena of business intelligence as well as help them uncover how data, predictive analytics and more sophisticated reporting can further deliver excellence in pricing practices to LRO users.
ATLANTA, GA (PRWEB) April 01, 2013
The Rainmaker Group, the leading provider of revenue management and profit optimization solutions to the multifamily housing and gaming/hospitality industries, today announces Chris Brust, co-founder at ReLuminous LLC, as a new consultant to the company's stout business intelligence (BI) team and will lead the technical advancement of data platforms and BI tools for Rainmaker LRO – the company's multifamily revenue optimization system. In his position, Brust will assist in the design, development and delivery of state-of-the-art and intuitive solutions for LRO revenue management that will enhance the offering's overall effectiveness in generating more accurate and timely pricing recommendations for its users. The new BI tools are slated for launch in the upcoming 13.6 software update.
As business intelligence is constantly evolving and solutions are continuously improving, Brust will spearhead the company's efforts to advance the Rainmaker data technology platform, keeping the product offerings aligned as the highest ROI generating solutions that multifamily owners/operators can employ.
"Rainmaker LRO is on the forefront of leveraging all areas of data to improve revenue management strategies for our customers," said Amar Duggasani, executive vice president, strategy and business development for Rainmaker LRO. "Chris is a highly sought-after, experienced multifamily executive who worked for one of the largest REITs in the country and has a long history of developing sophisticated data warehouse and business intelligence programs. His strengths in data modeling, data integration, predictive analytics and reporting are an unmatched asset not only to Rainmaker but more importantly our customers. LRO users can anticipate more robust, timely and accurate pricing derived from the intelligence tools we are collectively developing. We are thrilled to have him on the team."
Brust will leverage his unique combination of deep technical expertise and business acumen to help Rainmaker LRO address the dynamic business intelligence landscape, ensuring the company is positioned to continually deliver its customers innovations and advancements within its pricing technology platform. During his tenure with Archstone, serving in various roles from operations and revenue management to most recently as vice president of business intelligence, Brust built the technical solution that helped the company achieve superior revenue results with data-driven, focused disciplines and decision-making processes.
"Rainmaker LRO has a long-standing reputation of excellence and innovation, backed by a commitment to push the envelope and deliver best-in-breed products to its customers," said Brust. "I am excited to help them launch into the arena of business intelligence as well as help them uncover how data, predictive analytics and more sophisticated reporting can further deliver excellence in pricing practices to LRO users."
Brust holds a MBA from the University of Colorado and a BSE in Civil Engineering from the University of Michigan.
Rainmaker LRO™ is the leading multifamily lease rate optimization solution used to maximize revenue from apartment leases. The system calculates optimized pricing based on multiple factors that influence rate setting, including traffic and lease duration, move-in dates, competitive affects and other metrics. The system also produces enterprise-wide demand forecasts by measuring and analyzing historical and current market metrics and performing calculations necessary for occupancy predictions that are dynamically updated as market conditions change.
About Rainmaker
The Rainmaker Group is the market leader in profit optimization solutions for the Multifamily Housing and Gaming & Hospitality industries. Rainmaker software, coupled with professional business consulting services, enables multifamily housing operators to maximize revenue from apartment leases and helps operators of casino hotels and other hospitality enterprises secure the most valuable customers to increase their profitability. Rainmaker is a Microsoft Gold Certified Partner and leverages cutting-edge research in order to bring customers the most sophisticated solutions to their revenue management challenges. Adopted by industry leaders and niche players alike, Rainmaker solutions provide clients a strategic advantage in achieving the highest profitability from their assets. Multifamily housing clients include leaders such as AvalonBay Communities, Equity Residential, Gables Residential, Post Properties, Mid-America Apartment Communities and more. Gaming/Hospitality clients include leading casino/hotel organizations such as Atlantis The Palm Dubai, Caesars Entertainment, MGM Resorts International, Omni Hotels & Resorts, Wynn Las Vegas and many others. Headquartered in northern Atlanta, GA, Rainmaker is an innovator and thought leader in the highly specialized revenue optimization field. For two consecutive years, Inc. magazine ranked Rainmaker among America's top 5,000 fastest-growing, privately held companies. For more information, visit http://www.LetItRain.com.