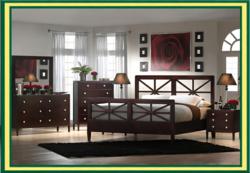 Flame retardant firemaster 550 is applied to furniture foam to reduce flammability and is frequently detected in house dust.
San Francisco, CA (PRWEB) April 02, 2013
On April 2, 2013 The Futon Shop responds to a new study "Firemaster 550 an obesogen: linked to weight gain, early puberty, and anxiety in rats," published by Environmental Health News.
The synopsis by Craig Butt from Environmental Health Sciences explains the published study by The Journal of Biochemical and Molecular. 550 as an obesogen. He explains that Obesogens are foreign chemical compounds that disrupt normal development and balance of lipid metabolism, which causes obesity. In the study, the rats were exposed to Firemaster 550 before birth and while nursing and gained weight earlier and were obese as adults. Males were 32 percent heavier and females were 22 percent heavier when compared to unexposed adults.
According to Environmental Health news, Flame retardant firemaster 550 is applied to furniture foam to reduce flammability and is frequently detected in house dust. The mixture is a replacement for polybrominated diphenyl ethers (PBDEs), a large class of once widely used flame-retardants that are banned or being voluntarily phased out of use in the United States, Europe and elsewhere. The long-lived PBDEs can accumulate in the food chain and have known health effects on thyroid hormones and neurodevelopment. According to the Study by the Journal of Biochemical and Molecular Toxicology, obesogens are partially to blame for the obesity epidemic.
The study also shows that the endocrine disrupting effect of Firemaster 550 increased body weight linked to the chemicals is related to early puberty. For example, the female babies reached puberty 3 days earlier than babies unexposed to the chemicals.
The Futon Shop thinks more studies and government control should increase surrounding this subject. The Futon Shop has followed the law, by adding the most natural fire retardant to their cotton batting in the form of Borate aka Borax, aka Boric Acid. As for
All futon mattresses manufactured at The Futon Shop, the fire retardant boric acid is only sprinkled into the cotton, and no fire retardant exist in their soy-foam, latex or wool. Boric acid is not a known carcinogen by the EPA, the state of California or the IARC International Agency for Research on Cancer.
Being a manufacturer in California, The Futon Shop follows the law, but what is different about The Futon Shop is how they care about their consumers and the health of anyone that sleeps on their products. With a doctor's note, anyone that purchases from The Futon Shop has the opportunity to sleep on a chemical free mattress. The Futon Shop believes that each consumer has the right and choice to sleep on an organic cotton futon mattress. Other companies often either hides what is in their mattresses, do not give an option to omit the chemicals, or when asked, they do not have the information to explain what is in their mattress.
The Futon Shop is even happier to hear about recent new just a few days ago. On March 27th, the Chicago Tribune published an article, "California Pushes Rule Banning Toxic Flame Retardants." The great news was about the pressure from California officials that vowed Tuesday to move forward on a new fire safety rule that could eliminate the use of toxic flame-retardants in household furniture and baby products sold nationwide. The Futon Shop supports a future of no chemicals in homes, mattresses, and especially not in any baby products.
The Futon Shop is a vertically integrated retailer that manufactures over 33 organic and green mattresses from start to finish. The company dates back to 1976 led by Suzanne Diamond and her team of specialists dedicated to producing eco friendly furniture and bedding. Their mission is to produce the best eco-friendly/chemical-free Organic and Natural futons, organic mattresses, futon covers for sofa beds, futon frames, and platform bed frames that promote better healthy living and a good night's sleep for all.