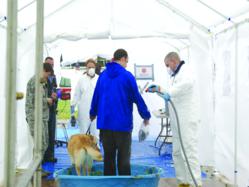 "South Carolina has a human population of nearly 5 million, with an expected 1.5 million possibly facing evacuation orders in the event of a hurricane...."
Columbia, South Carolina (PRWEB) April 05, 2013
The American Veterinary Medical Foundation has awarded a $5,000 Disaster Preparedness Grant to the South Carolina Association of Veterinarians (SCAV). Working with Clemson University Livestock Poultry Health (CULPH), the Lead Agency for South Carolina's Animal Emergency Response, the SCAV will use these funds to train veterinarians, veterinary technicians and support staff to respond to animal emergency events in both natural and man-made disasters affecting the state.
Designed to improve animal/agriculture emergency response capability and benefit the citizens of South Carolina, these trainings will be available for licensed veterinary professionals and support staff beginning May 19th in West Columbia and June 16 and June 18 in Myrtle Beach.
South Carolina has a human population of nearly 5 million, with an expected one and half million possibly facing evacuation orders in the event of a hurricane along its 178 coastal miles. In addition, much of SC lies on an earthquake fault line. There are currently six fixed nuclear facilities with development of more planned for the near future. All of these statistics demonstrate the need for caring, experienced animal handlers to assist emergency managers and citizens with animal issues in emergency situations. With approximately 84,000 horses, major poultry agribusiness, hundreds of thousands head of cattle and dairy animals, swine farms, and a growing small ruminant population, an outbreak of a foreign animal disease would have a huge effect on the state's economy. South Carolina has become "famous" for its chemical spills: Graniteville, 2005; and Great Falls, 2006. Wildfires of 2009 forced citizens of a coastal county to evacuate pets and horses. In addition, the Charleston, SC, airport is one of those designated to accept repatriated American citizens (and their pets) when they are forced to leave countries in times of political unrest.
According to Dr. Charlotte Krugler, Emergency Preparedness Veterinarian at CULPH and liaison to the State Emergency Management Division for Emergency Support Function (ESF)-17, "The overarching goal is to develop a group of trained veterinary professionals who can assist with animal emergency response support in all types of disasters facing the state. An inventory of these responders will be maintained and readily accessible. State animal/agriculture response plans will also be updated following the training program."
The American Veterinary Medical Foundation (AVMF) is the charitable arm of the AVMA. For 50 years, the AVMF has been dedicated to embracing and advancing the well-being and medical care of animals. Charitable contributions and support to the Foundation help veterinarians help animals. Initiatives include: Humane Outreach-Animal Welfare, Education and Public Awareness, Research Support, Student Enhancement, and Support of American Veterinary Medical Association and its Initiatives. The AVMF, a two-time, four-star rated nonprofit by Charity Navigator, has awarded more than $50 million in grants since it began in 1963.
Established in 1911, SCAV is a not-for-profit association representing veterinarians. The Association strives to advance the science and art of veterinary medicine by providing opportunities for professional education and development and by enhancing the relationships between veterinarians, agriculture, pet owners, government and the public at large; and to protect the public health by promoting proper involvement in human and animal health care by the veterinary profession.