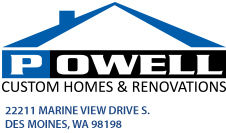 You might say that we know the right people because we have been in the Seattle Custom Home Building Industry for over 100 years
Des Moines, Washington (PRWEB) April 02, 2013
Brooks Powell, CEO of Powell Custom Homes, stopped by the radio-station for an interview with Ben Brashen, Host of The Brashenomics Radio Show. The interview was to be about why working with a Custom Home Builder for the entire process of custom home building, from land acquisition, to move-in, is the way to go.
As the show opens, Ben asked Brooks to explain to the listeners, how it is to the potential custom homeowner's advantage to not only use a custom home builder for the building process, but also for land acquisition. "Ben, I am glad you asked. Very often, people just start looking for a piece of land in the area they think would be nice for a home. What they don't realize, is that they are going to find out about land that is listed on the MLS, and such, but they are missing out on the wholesale properties that are available to custom home builders such as Powell".
Brooks goes on to say: "These exclusive plots of land are very often the most desirable, and very hard to find just driving around, or using a real estate broker going off of the MLS listings. You might say that we know the right people because we have been in the Seattle Custom Home Building Industry for over 100 years".
Ben brings up a good point: "How do you go about checking out the land for your clients?". Brooks explains how Powell Custom Homes uses a 50-point checklist as part of their feasability study. Such things as the availability of septic, sewer, zoning and water lines must be considered. He relates an incident where the water company would need to run a loopback in order to have a water line go into the piece of land, and the cost would have been $100K. He explained how Powell has the expertise to investigate these potential problems, saving the client headaches and expense.
Brooks discusses how they feel that you should first start with coming up with a home design that fits the wants and needs of the home buyer, then the land can be chosen to fit the layout of the house. It makes more sense to do it that way. Brooks is often asked how long the process takes from start to finish, and he states that it takes one year from land selection, to move-in.