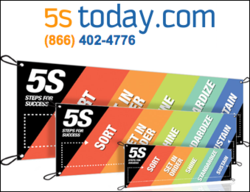 (PRWEB) April 04, 2013
5SToday.com, the popular online supplier of quality lean products, has announced the arrival of their new Smart Stripe industrial floor tape products. These new products are designed for use in light to medium traffic facilities. This comes as good news to companies across the United States and beyond seeking high quality and affordable industrial floor tape solutions to increase worker safety and efficiency.
The new Smart Stripe industrial floor tape is manufactured to be especially durable, with a thin profile. This allows for the free flow of people, carts, and vehicles over the tape without any impedance. The new Smart Stripe industrial floor tape is kept securely in place by a high-grade and power adhesive.
Starting at only $19.99, each roll comes with 130' of tape, far exceeding industry standards. Smart Stripe industrial floor tape is made for easy application with a quick release liner set to eliminate curling, stretching or snagging. Each roll comes with 10 different color options to maximize organization capabilities and productivity.
5S Today offers a wide variety of Smart Stripe industrial floor tape to fit any facilities particular needs. They offer quality Smart Stripe rounded corners, squared corners, rounded arrowheads, arrows, footprints, and more starting at only $25. Each package comes with size options, including numerous color selections.
5SToday.com is the leading online supplier of 5S supplies, lean tools, floor marking tapes, floor signs, red tags, 5S videos, 6S safety supplies, and more. They are dedicated to offering the highest quality products at the lowest online prices. Their latest Smart Stripe industrial floor tape products are part of their ongoing effort to supply businesses with the most effective and affordable 5S products on the market to best increase worker safety and efficiency.
About 5S Today
5S Today is dedicated to streamlining and enhancing organizations. Their quality lean products and services enable companies to gain a competitive edge in their market by learning how to best reduce costs, increase sales, and become more agile in the ever changing business environment. 5 S is a systemic approach to workplace organization, it utilizes their unique 5 pillars of 5S: Sort, Set in Order, Shine, Standardize, and Sustain. They offer several instructional and educational packages that help businesses best utilize 5S's products. They also offer a large selection of tools to use in the workplace to maximize organization, like safety tape, lean posters, floor tape, and banners which can be shipped to virtually any address around the world and domestic deliveries of orders over $100 quality for free shipping. For more information, visit http://www.5stoday.com/ or follow them on Facebook, LinkedIn or Google+.