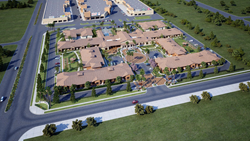 Renaissance Village's main focus will be on senior independence and mobility, and will provide high quality, compassionate health care, while advancing independence and physical activity in a quality social environment
Moreno Valley, Calif (PRWEB) April 02, 2013
The project site is adjacent to the Moreno Valley Marketplace and is in close proximity to the Riverside County Medical Center and Kaiser hospitals in both Fontana and Riverside.
The facility, now in its first phase, will provide for 100 beds dedicated to senior assisted living and memory care. It is scheduled for completion in June of 2014.
"Renaissance Village's main focus will be on senior independence and mobility, and will provide high quality, compassionate health care, while advancing independence and physical activity in a quality social environment," said Charlene Kussner of the real estate development company, Continental East Development (CED).
According to Kussner, Renaissance Village will be a full care, twenty-four-hour facility with a dedicated professional staff including a dietitian, physical therapist and nursing director. The living quarters will range in size from 500 to 800 square feet. Residents can choose from studio floor plans or one and two bedroom options with built in custom cabinetry and private baths. Some will also include a patio or balcony sitting areas.
CED chose BFHL, an architectural firm based in San Francisco specializing in healthcare projects, to aid in the design and planning of Renaissance Village. BFHL has designed several care facilities in California including the Brentwood Medical Center in Brentwood and the Senior Care Center in Mountain View.
The design calls for a fully enclosed aquatic therapy pool, a dining room, bistro and library. There will also be what Kussner refers to as a "brain lab" where residents can use computers and study various subjects. It will have a fully equipped fitness center, a recreation/ multipurpose room, a large conference room and an art room. There will be a large outdoor patio with a fireplace for barbecues and gatherings. The grounds will include raised garden beds for the residents' personal gardening, along with walking paths and gazebos.
"The Renaissance brand is not an ending, but a new beginning, a rebirth of senior living," Kussner said."
In attendance at the groundbreaking ceremony will be Charlene Kussner, Al Rattan and Lydia Percia of Continental East Development, along with a group of project investors. Also in attendance will be Moreno Valley Mayor Tom Owings, City Manager Henry Garcia, Economic Development Directors Barry Foster and Tom Freeman. Members of the Moreno Valley Chamber of Commerce and the Riverside County Office on Aging have also been invited, along with members from the Senior Citizens Advisory Board.