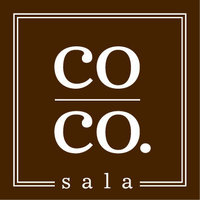 Washington, DC (PRWEB) April 02, 2013
DC's critically acclaimed restaurant, late night lounge, and chocolate boutique Co Co. Sala (929 F Street NW; Washington, DC; 202-347-4265; http://www.cocosala.com), officially announced today that it will be opening a chocolate shop at Union Market in DC.
The shop is tentatively scheduled to open this Spring just in time for Mother's Day. Nisha Sidhu, co-owner of Co Co. Sala, discussed why this opening time is extra sweet to her. "I have very fond childhood memories of visiting the market with my mother. Through her own love for fresh, unique dishes and as the perfect entertaining hostess, she taught me how important food is in bringing family and friends together. I strive to teach my own children the same. Opening at Union Market around this beautiful time of year when we pay tribute to the most important women in our lives, would be a blessing."
The decision for Co Co. Sala to open in Union Market was not a difficult one. Santosh Tiptur, Executive & Pastry Chef of Co Co. Sala, explains: "Since its opening in 2008, Co Co. Sala has received overwhelming support from the Community. Bringing the community together and giving them a place to connect has always been an important goal to us. Union Market provides a great place for people to connect to fresh food, local artisans and the community. We are extremely excited to be opening at Union Market – a venue which has quickly blossomed into a foodie haven for all in DC."
Co Co. Sala will feature artisanal chocolates beautifully presented in award-winning packaging along with other chocolate indulgences such as the popular chocolate enrobed bacon and hot co co. pops. Its unique collection of artisanal chocolates includes intriguing flavors such as Banana Ginger, Rosemary Caramel, Chipotle, Peanut Butter & Jelly, Mango Lassi, and many more. Seasonal chocolate gift items will be offered as well as enchanting "chocolate art". All chocolates are made in DC using the finest and freshest ingredients such as Valrhona couverture without any preservatives or additives.
Visit Co Co. Sala at Union Market and make sure to indulge in its hot co co. while you are there.
For more information on Union Market, please visit http://www.unionmarketdc.com. For additional information on Co Co. Sala, please visit http://www.cocosala.com. Stay connected with Co Co. Sala on Facebook at http://www.facebook.com/cocosala and follow @cocosala on Twitter.
Co Co. Sala, located at 929 F Street NW in Washington, DC, is a luxurious chocolate boutique lounge & restaurant crafting signature cocktails and serving delicious savory and sweet desserts to the District. Co Co. Sala has won multiple awards, been featured in the pages of the Washingtonian, Washington Post, Food Network Magazine, Home & Design Magazine, Wall Street Journal, Dessert Professional and on CNN, The Food Network, Martha Stewart Radio, The Today Show, CBS's The Early Show, ABC News, NBC News, and CBS News in addition to others. Co Co. Sala's website, cocosala.com, offers online sales for both local & non-local customers.