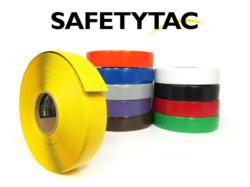 "SafetyTac tape has saved man hours when it comes to applying aisle markings and has made my life simpler."
Lake Oswego, OR (PRWEB) April 03, 2013
Occupational safety in the workplace is important to business owners as well as employees. Aisles that are properly marked can be a simple solution for creating a safe work environment. OSHA has set guidelines and regulations for marking standards at warehouses, factories, and other similar structures. Creative Safety Supply is now offering SafetyTac aisle marking tape that complies with OSHA's standards.
Osha has provided a few instructions for marking aisles and the minimum acceptable widths of aisles in industrial operations. The first is that a line should be used to designate the aisle, although that line may be any color or combination of colors as long as it clearly identifies the aisle as such. The lines may be composed of dots, square, strip or continuous, so long as the entire aisle dimensions are sufficiently covered. Safety Tac tape is available through Creative Safety Supply in different shapes, designs, and ten colors as recommended by OSHA.
OSHA also requires that every aisle marking be at least 2 inches wide, and recommends an aisle marking width between 2 to 6 inches. The width of the aisle itself, on the other hand, must be at least 3 feet wider than the largest piece of equipment that will travel through it, and in no case narrower than 4 feet in width. SafetyTac tape is available in 2, 3, 4 and 6 inch widths and thereby complies with OSHA's width standards.
SafetyTac tape is considered the strongest industrial floor tape in the market. It has withstood the toughest tests and trials on the planet including high volume traffic from forklifts dragging heavily loaded pallets across its surface, as well as heavy trucks and tons of foot traffic. Aisle marking projects can be completed in no time with the simple and easy peel-&-stick installation. SafetyTac's tough exterior material and super strong adhesive backing makes cleaning a snap.
A maintenance worker commented, "SafetyTac tape has saved man hours when it comes to applying aisle markings and has made my life simpler."
For more information about SafetyTac Aisle Marking Tape, please visit http://www.creativesafetysupply.com/Aisle-Marking-Tape/ or call toll-free (866)777-1360 to speak with a professional representative.