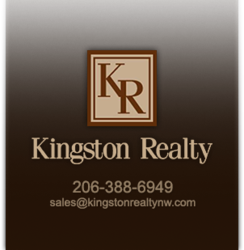 most people who go it alone will overpay for the land
SEATTLE, WASHINGTON (PRWEB) April 03, 2013
Kalen Peters, CEO of Kingston Realty, stopped by the radio-station for an interview with Ben Brashen, Host of The Brashenomics Radio Show. The topic for discussion was to be about acquiring land for custom home building, and why it is better to have professional assistance.
Ben opened the show by asking Kalen to explain to the listeners just exactly why should a person enlist an agent for help in acquiring land. Kalen responded: "Well Ben, there are several good reasons why a person should enlist the aid of a real-estate professional for land acquisition. One good reason is that most people who go it alone will overpay for the land. I think that it is safe to assume the most custom homes are upscale, and the piece of land should be in a location where the land and home will appreciate in value".
He goes on to say: "At Kingston Realty, we do this for a living, every day. We know which locations are the best. You have to remember that some custom home neighborhoods are relatively new, and it might take a little research to see the prior use of the land. There was a case where farmland, was purchased and broken down into plots for custom home building. The problem was that the farm had an area where they did equipment repairs, and stored fuel tanks. It turned out the some of these plots were contaminated, and had to be mitigated at quite an expense. The point is that a good realty pro might have been able to see this problem early on, avoiding the mistake of buying the land without testing it".
Ben responds: "That's a great point Kalen, I guess prior use is an important consideration. How involved have you been with Home Builders?" Kalen explains: "The cornerstone of Kingston Realty is home builder representation. Over the years, our team has sold hundreds of new homes, representing several different home builders in the process. We have vast experience in land development, planning, permitting, building and financing. Simply stated, we know how to get the job done".